Real-time Applications of Intelligent Document Processing
Radhika Madhavan
Director of Marketing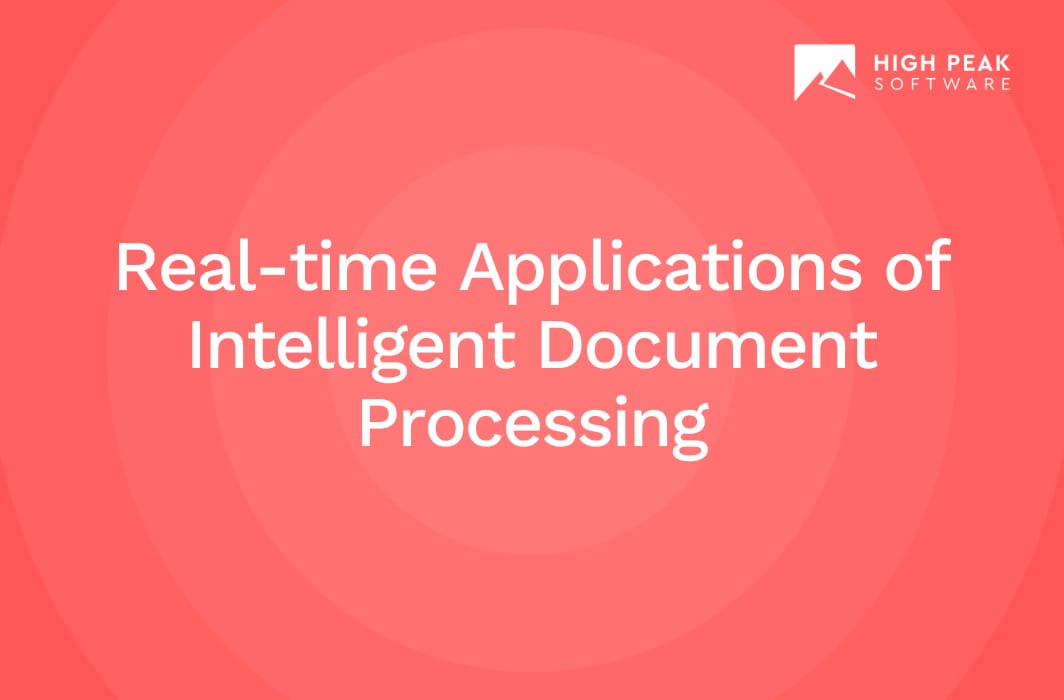 Table of Contents
---
Much of the discussion on automation in enterprises today, is focused on artificial intelligence and robots. At the most basic level, organizations can begin by automating mundane and repetitive processes such as processing of paper documents. Here comes the role of Intelligent Document Processing.
A Gartner research claims that organizations worldwide record a 25% growth in usage of paper each year. Paper continues to be a hindrance for many organizations owing to difficulties in processing and extracting information from such documents. More often than not, this process is carried out manually in organizations making it an arduous task that is prone to errors. To alleviate such problems, Intelligent Document Processing (IDP) can help organizations automate and digitize their document processing operations.
But what is IDP?
Intelligent Document Processing is broadly defined as any application that can capture data from documents — email, text, scanned images, and extract relevant data from these documents for further processing. Documents are processed using AI technologies such as computer vision, OCR, Natural Language Processing (NLP), and machine learning or deep learning.
In this article we shall discuss in detail the steps of intelligent document processing and its real-time applications across verticals:

Intelligent Data Processing (IDP): The Process
Each step of the IDP process has a definite function namely, data capture, data extraction, and data export.
Data Capture
Data (in the form of text, images, and voice), both structured and unstructured is fed into the intelligent document processor. In this step of the process, relevant and important data is captured using technologies like Optical Character Recognition (OCR) and Intelligent Character Recognition (ICR). OCR recognizes characters and symbols on the document, and ICR can recognize handwritten characters in a document. For textual and voice documents, relevant key-value pairs are extracted. In case of images, low resolution images are upscaled or enhanced.
Data Extraction
In the next step, the captured data is extracted. The processor extracts critical information using a pattern matching tool–Regular Expressions (RegEx) to extract relevant data from the document. The data that is extracted depends on the type of document being processed.
Data Export
In the last step of the process, the extracted information is either exported to business processes or workflow systems like CRM and ERP or it is stored in a designated location for future use.

Real-time Applications of IDP in Industries
Banking & Finance
Operations in the banking and finance sector include filing and sorting through a large amount of paperwork and documentation. A centralized approach in the processing, storage, and maintenance of documents is an ideal solution to efficient operational workflow and enhanced customer service levels.
IDP can help process all kinds of documents such as account opening forms, credit card applications, loan or mortgage applications, fund transfer applications, and more.
For instance, processing of Know Your Customer (KYC) documents is a long drawn out procedure involving a lot of manual form filling. In addition, the process requires that documents such as proof of identity (POI), proof of address (POA), and account opening forms (OAF) are verified. Banks face a major challenge in the KYC documentation process when they have to onboard new customers and make renewals for existing customers due to ongoing regulatory reforms. To alleviate this problem, the KYC process was automated using IDP.
A case study conducted by Ernst & Young reported that by automating the KYC process, the processing time reduced from 18 mins to less than a minute for a single KYC document. The company also saw an increase in KYC processing scale to over 0.8 million documents/day.
Bank of America, the ninth largest bank in the world, uses artificial intelligence and intelligent data processing to automate form filling processes such as loan forms and mortgage forms.
Insurance
Insurance is a document-centric industry that deals with documentation processes that are repetitive and time consuming. Automating the documentation process helps insurance companies reduce processing time, eliminate the possibility of errors, and increase overall efficiency. With the combination of AI and the data processing capability of IDP, insurance companies can automate the insurance claim process.
For instance, a customer wanting to claim home renter's insurance due to some damage done to his residence. This may cause the customer to relocate temporarily which is an inconvenient and sudden disruption from his everyday routine. Processing the customer's claim and transferring funds as soon as possible becomes a priority for the insurance company in this situation. IDP can do just that.
A case study on Allstate Business Insurance (ABI) claims that the company developed an intelligent assistant Allstate Business Insurance Expert (ABIe) that was able to process 25,000 inquiries in a month.
Human Resources
HR operations constitute multiple functions including recruitment and onboarding of new employees, handling the payroll processes, feedback forms and surveys, terminations etc. HR documentation involves recruitment data, employee data, training data, career progression data, attendance records, and more.
Because HR operations are data dependent, processing and managing this data manually becomes time consuming, inefficient, and costly. HR automation by IDP can help organizations streamline HR processes. Additionally, the data extracted using IDP can be utilized in making informed decisions as well as gather insights for business.
Healthcare
Maintenance and organization of medical documents such as patient records, hospital records, and financial data can be an arduous task. Healthcare companies are increasingly opting for digitization of their paperwork and automating the process of filling patient and medical forms.
Easy and quick access to relevant patient information is especially vital in situations where doctors need to make timely decisions. Using an IDP ensures that all relevant medical documentation is maintained in a digital format, thereby preventing any loss or misplacement, and ensuring that sensitive medical information is secured.
Legal
Lawyers often find themselves buried in paperwork while working cases. Whether the paperwork is for the clients, the ongoing cases or even reference material to prepare for a case, most legal documents are lengthy and voluminous in nature.
With IDP, legal firms can automate processes of archiving and digitizing data. In addition, only the most relevant or critical information can be extracted and presented during a case.
For instance, contract documents are lengthy and extremely elaborate. Lawyers may have to spend hours trying to annotate such documents. IDP can be used to extract only the critical information from the contract document and summarize it efficiently.
Clifford Chance, one of the top law firms in the world, uses intelligent document automation to identify, extract, and analyze text in contracts, case reviews, and other such documents.

Conclusion
Organizations today are increasingly adopting processes that are automated and paperless over those that involve manual intervention. Companies today face a challenge in deriving value from the vast amounts of data they generate. This is because processing of that data is a largely time consuming and costly process. Scanning and OCR technologies have proven to be valuable in aiding a "paperless" workplace culture. However, they alone aren't enough especially in today's competitive market scenario. This is where the need for effective intelligent data capture becomes imperative.
IDP, paired with other complex technologies like machine learning (ML), Natural Language Processing (NLP), and Artificial Intelligence (AI) has made it possible to automate business processes and improve overall efficiency and productivity.
If you'd like to publish us in your publication, please reach out to us at marketing@highpeaksw.com.
Subscribe to our monthly newsletter