New product development process in 10 steps
Radhika Madhavan
Director of Marketing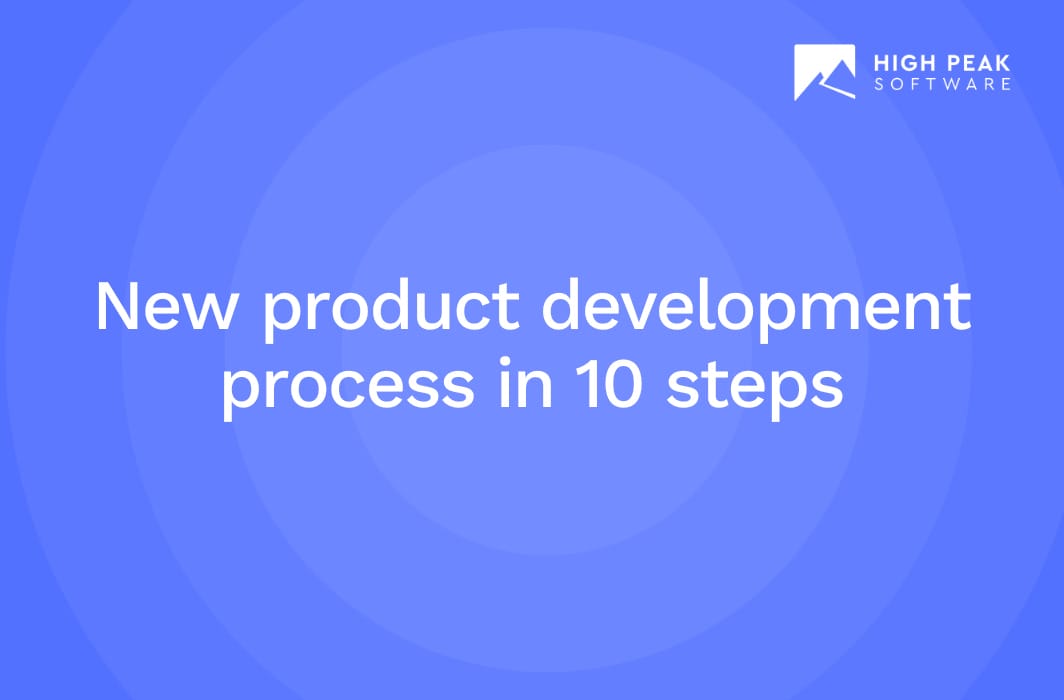 Table of Contents
---
The process behind a new product development may differ substantially from one company to another; however, it's important to understand the steps involved in developing a product from its ideation to its commercialization.
The New Product Development (NPD) process covers bringing a new product to the market, introducing an existing product in a new market, and renewing an existing product. Each of these objectives involves playing around with similar products and exploring novel functionalities that can be brought to current and future consumers.
According to a Mckinsey report, newly launched products have a failure rate between 25% – 45%, whereas one out of seven concepts blossoms into a successful product. The failure rate is seen to drastically decrease when a systematic, customer-centric approach is employed in understanding the market, consumers, and competition.
Giving your product ample thought is so important that 17% of startups collapse purely because they failed to pay enough attention to product development.
Key factors influencing your customer journey
The decisions that influence whether a customer buys and continues buying your product starts well before the customer even lays their hands on the product. A positive customer experience starts with well-targeted marketing campaigns that consistently align with the needs of the market.
Here are some factors that provide a more complete view into the mind of the customer:
Buying task
Market offerings
Demographics
Life stage
Lifestyle
Motivation
Perception, learning, belief
Culture, subculture, social class, family, reference groups
New product development process: An overview
Firstly, why do we need a new product development process? Also, it should be noted that the "new" in New Product Development Process refers to the process behind building a new product and does not refer to a new process itself.
We need a product development process that focuses on the new because it allows us to have clarity and confidence in a never-seen-before concept while we build it, as opposed to relying solely on basic research and performance of the product in the market, and its market share
The new product development (NPD) process can be described as the conversion of a market opportunity into a truly novel product or service, using technological innovations, that meet the demands of a rapidly changing market, all the while focusing on optimizing cost, time, and quality.
The NPD process also strives to provide a more data-driven approach to the management so they are aware of how the new product aligns with the goals of their company. And for this reason, it is imperative to eliminate communication barriers, implement Knowledge Management across the organization, and simulate the business attractiveness of the proposed new product.
10 key steps to successfully developing and launching a new product
Just as there is no one ride-sharing app or instant messaging platform, there is no one generic product development process. Each version of such a product or service will vary depending on the depth and detail that goes into its development.
Building new products can be an uncertain adventure and when done right, it's an adventure that can bring in much gratification and value from its users.
In this article, we explain the seven steps of the new product development process describing the development of the new product which more often than not culminates in a decision-making step by the Senior Management team, often known as a gate.
1. Idea generation and screening
No product development can start without an underlying idea or concept to carry it to its users.
This stage involves idea generation where we brainstorm and come up with innovative new ideas that can solve customer problems. See generating ideas for new products and services.
Then we start Evaluating and Screening out concepts by filtering out any ideas not worth taking forward; those ideas are worth the company's resources and/or raw and unproven ideas that can take the company's objectives to the next level.
Finally, we start defining the chosen concept and establishing its various specifications such as market potential, technical feasibility, and product design.
2. Product research and definition
Here's where we predict and assess the technical, market, and business aspects of the product as it is being launched into the market. All the stakeholders must understand the environment in which the product or service is being developed and deployed.
That's why we must refine the definition of the product concept and make sure that everyone involved understands the customer requirements. A pre-commercialization analysis of the product, if you will.
3. Marketing strategy development
A solid marketing strategy can put the business management at ease with knowing how the product enters the market, and into what environment it is entering. Essentially, this stage deals with conducting market research to capture current and future sentiment in the target industry while also trying to define the value proposition and predict the long-term sales, market share, and profit for the next few years.
Of course, all this happens under a marketing budget which is then again specified exclusively for the New Product.
4. Competitor business analysis
A product is always released into a playing field, the market, which can be dominated, saturated, or awaiting a revolutionary change. Whatever the status of the market, it's important to keep in mind why we are releasing the product at hand: to benefit customers and enhance their current experience of a service or product.
So we need to understand if there are any ways in which we can fill the gaps in our competitor's offerings that lack quality, experience, and novel features that can be incorporated into the product to better fit the target market's requirements.
We can start this stage by performing competitive analysis, outlining the total sales forecast, estimating costs, profit projections, and then mapping out the distribution strategy, including e-commerce. The competitor business analysis should also produce advertising and PR estimates, which factor into the ROI calculation for the new product finally resulting in a three-year Profit & Loss plan.
5. Development costs
Product development costs can be extremely volatile, and R&D and engineering costs can lead to a huge jump in initial investment.
Though the development process must be smooth and continuous, it isn't always the case, so at this step in the NPD, the team develops different development costs that can arise during the development process.
6. Product planning
This stage involves defining the details required to produce the final product or service. For example, if it's a physical product you're creating, you'll need to source the raw materials or find supply chain partners to whom you can outsource the manufacturing.
Product planning can alert companies and businesses to long-term challenges within the business environment and that's why optimizing this process can help identify and create contingencies for any bumps that might come along in the product development journey, achieving a faster time to market.
This stage also involves identifying the workforce that will be working on each aspect of the product development process to come such as the marketing, design, and development teams that will bring the product to fruition.
7. Product Design
To bring the new and untested concepts we have at hand and turn them into minimum viable products that can be visually and technically marketed, a strong design team is essential. Design helps to consider themes, usability, design palettes that fit product as well as business, while incorporating all the features that were laid out in the Idea Generation and Product Research phase.
We begin by creating mockups that can garner necessary initial feedback on such things as product-market fit, market potential, and alignment with company aesthetic. Initial mockups are most often simple paper prototypes that are used to get early feedback from test marketing, after which we can start raking in some customer feedback using concept designs.
The next step in the ladder uses computer-aided design to create a design simulation using 3D rendering software that provides an almost real-life rendering of how the product might look and feel when it hits the market. This helps uncover defects that might have been hidden. Utilize this opportunity to return to address any superficial or sub-surface issues.
8. Product development
PD is the beginning of the product life-cycle development process and is when we start creating the final product that will be commercialized. The objective is for the designers, engineers, and developers to arrive at a functional prototype of the product concept. It usually starts with developing the MVP or Minimum Viable Product which involves collecting the ideas and materials so far relegated to the New Product and creating the best form of a testing product that adheres to the fundamental concept and requirements of the market.
Followed by prototyping the new product with a fully-fledged UI/UX, content, functionality, and anything else that we expect the commercialized product to offer.
Building a successful prototype can take days, weeks, months, or even years, depending on available resources and prototyping methods. Although it might seem unsteady, this stage offers the best opportunities to bring your prototypes to consumers for pre-release testing which can be exceptionally valuable to both development and marketing teams.
After receiving a green light from all stakeholders, final touches are added to the prototype. A SaaS business like ours usually then moves on to finalizing the code. By the end of this phase, Senior Management should have a working experience of the final product.
9. Validation and Testing
Finally, we are at that last crucial stage before we open up our product or service to the entire world. Here, we check if all the metaphorical nuts and bolts are fastened and secure; market testing, product testing, performance testing, and so on to analyze how the product reacts to different application builds, customer scenarios, and realistic marketing environments.
This enables marketers, designers, and developers to understand how better to package, distribute, and sell the product or service to the customers before it hits the shelves.
Every underlying concept, attribute, and function of the product is validated here in "real world" conditions as much as possible, which is why if any optimizations are required to be made, should be made by the company as it might be the team's last chance to do so before the product's debut.
It's also important to close this stage with beta testing, which comprises manual testing to validate the product's overall performance and efficiency considering various input scenarios, helping further validate the go-to-market plan.
10. Commercialization
All this testing, evaluation, and analysis has given management all the necessary data needed to make the final decision: To launch the new product or not to launch the new product.
If all lights turn green, then we're almost done and it's time to fine-tune those aspects that can either drive the market towards you or far away from you: product pricing, finalizing marketing plans, conducting pre-launch webinars, and other such activities that can multiply the chances of success.
This stage can often be a costly ordeal when it comes to infrastructural costs such as cloud storage and larger amounts, resulting from initiating and sustaining marketing activities such as sales promotions and advertisements.
Before launching the product, it's important to evaluate the business environment into which we will be launching the product or service such as
Timing: If the economy is trending downwards, you might want to consider pushing the launch forward to a date when the target users will be able to participate. Or maybe it's not the economy and it's your competitor ready to introduce their products, then please be advised that your company should push to introduce the new product sooner.
Place: Geography can be nothing but tricky, especially if you don't know whether you should stick to a single location or region, or go full speed ahead with the national or international market. All this might depend on the capacity and capital that your company holds, so tally your resources and decide whether you'd like to tackle a smaller geographical area or a larger one.
In closing
The stage is almost set, now all that remains is to have your teams—production, distribution, marketing, sales, and customer support in place to ensure a successful launch and a thriving campaign that lasts many seasons.
And here we are, at the product finale; the product premieres at the global stage or the end-users laptop, either way, it's out for everyone to use and utilize. Very few products enjoy the limelight for an increased time but as long as you remember it's all about creating a superior customer experience then it's more likely that you end up being the very few, the very noteworthy.
Looking to unlock the full potential of your company portfolio through our product development offerings? Let's build great products together!
Subscribe to our monthly newsletter