Leveraging influencer marketing for product promotion
Ayaan Bhattacharjee
Content Writer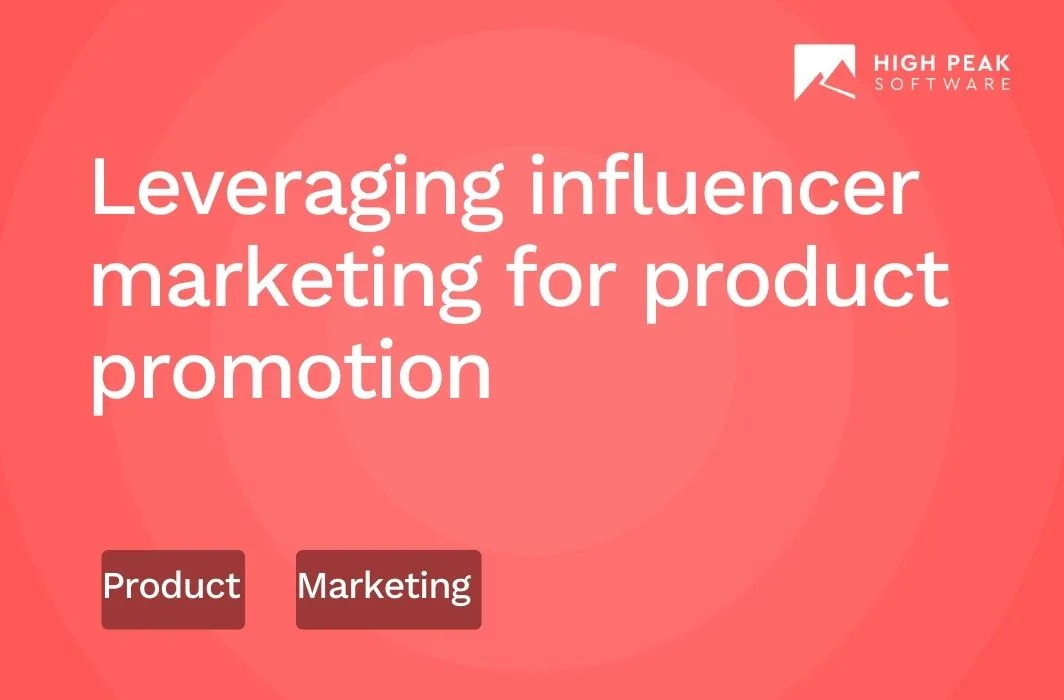 In today's digital age, influencer marketing has become an essential strategy for promotional products. This is because consumers trust the opinions and recommendations of influencers, which can lead to increased brand awareness, engagement, and sales.
An overview of an influencer marketing agency, its significance in product promotion, and the essential variables to consider while developing an influencer marketing campaign are the goals of this blog. By the end of this blog, readers will know more about how to use influencer marketing to accomplish their marketing objectives.
What is influencer marketing?
Partnering with people who have a sizable and active online following on social media platforms or other online channels is a type of marketing technique known as influencer marketing. These people—known as influencers—have the power to affect the beliefs and purchase choices of their followers, making them crucial allies in the promotion of goods and services.
Identifying the right influencers
It is essential to choose the appropriate influencers who can effectively reach your target audience and advertise your goods or services if you want to execute a successful influencer marketing campaign. Following the following procedures will help you find the right influencers for your campaign:
Determining target audience
Before selecting influencers, it is essential to identify your target audience. To locate influencers that can effectively engage with people, you should have a firm grasp of their demographics, interests, and behaviors. For example, you could want to collaborate with influencers that have a sizable female following and frequently post about beauty-related issues if you are promoting a beauty product aimed at young women.
Identifying relevant influencers
You can begin locating relevant influencers once you've established your target audience. Find influencers who frequently publish articles about your sector or particular product niche. To locate influencers appropriate for your campaign, you can use influencer databases, social media platforms, or search engines.
Evaluating influencer reach and engagement
Influencers should be judged on criteria other than the number of their followers. More crucial metrics to take into account are reach and engagement. Reach is the number of viewers an influencer's material receives, whereas engagement is the number of responses (likes, comments, shares, etc.) that a piece of content from an influencer receives.
To evaluate an influencer's reach, look at their average views, impressions, or other relevant metrics for their posts. You can also consider the number of followers an influencer has, but remember that a large follower count does not necessarily equate to high reach.
By following these steps and evaluating influencers based on their reach, engagement, authenticity, and relevance, you can identify the right influencers to help hit promotional products or services to your target audience.
Developing an influencer marketing strategy
It's time to create a thorough influencer marketing strategy when choosing the appropriate influencers for your campaign. The essential stages to take when creating your plan are listed below:
Setting campaign goals
You should establish your campaign goals before commencing your influencer marketing campaign. Are you hoping to increase engagement, encourage purchases, or raise brand awareness? You may choose the appropriate influencers to work with and the metrics you should monitor to gauge progress by having defined goals in mind.
Defining the budget
Establishing your campaign budget is the next stage. This will depend on the campaign's scale and breadth and the influencers' fees you intend to work with. Ensure to include all costs, including those for influencer compensation, content creation fees, and additional costs, such as shipping or product samples.
Creating a content plan
Once you have determined your campaign goals and budget, creating a content plan is time. To accomplish this, it is essential to team up with the thought leaders to determine the type of content they will create and how they will disseminate it to their audience. To guarantee that the content aligns with your brand, it is also essential to establish unambiguous guidelines for the style and communication of the piece.
Establishing measurement metrics
Establishing measuring metrics is crucial to monitoring the effectiveness of any influencer marketing program. Metrics like reach, engagement, website traffic, or purchases may be included in this. You can assess the efficacy of your campaign and make appropriate modifications by monitoring these metrics. Thus, implementing the total potential of an influencer marketing hub.
In addition to these critical steps, it's also essential to establish clear communication with the influencers you are working with. This includes providing clear expectations, timelines, and feedback throughout the campaign.
You may successfully reach your target audience, encourage participation, and accomplish your campaign goals by following these steps and creating a thorough influencer marketing strategy.
Building relationships with influencers
Building strong relationships with influencers is key to running successful influencer marketing campaigns. Here are 3 key steps to follow when building relationships with influencers:
Approaching influencers
When approaching influencers, it's important to be respectful and professional. Start by introducing yourself and your brand, and explain why you think the influencer would be a good fit for your campaign. Be sure to personalize your approach and highlight specific aspects of the influencer's content that align with your brand.
Building a rapport with influencers
Once you have established contact with an influencer, it's significant to build a rapport with them. This involves getting to know the influencer on a personal level and building a relationship based on mutual respect and trust. You can do this by regularly engaging with their content, sharing their posts, and commenting on their posts.
Negotiating terms and compensation
When working with influencers, it's important to negotiate clear terms and compensation for their participation in your campaign. This includes determining the scope of work, deadlines, and any deliverables. It's also important to agree on fair compensation for the influencer's time and effort, taking into account their reach, engagement, and the scope of the campaign.
By following these steps and building strong relationships with influencers, you can create long-lasting partnerships that will help drive the success of your influencer marketing campaigns.
Executing the campaign
After identifying the right influencers, developing a strategy, and building relationships, executing your influencer marketing campaign is time. Here are 3 steps to follow when executing your campaign:
Launching the campaign
When launching your campaign, it's essential to communicate clearly with your influencers and provide them with the necessary resources to create and share content. This includes providing clear guidelines on messaging and branding and any relevant images or videos.
Monitoring campaign progress
Once your campaign is live, monitoring its progress closely is essential. This involves tracking key metrics such as reach, engagement, and website traffic. By monitoring these metrics, you can identify any areas of the campaign that may need improvement and adjust your strategies accordingly.
Adjusting strategies as needed
You may need to modify your strategies if your campaign needs to be fixed as well as you had intended. This can entail modifying the messaging, changing the kinds of information published, or collaborating with other influencers.
Measuring campaign success
Measuring the success of your influencer marketing campaign's success is key to identifying improvement areas and optimizing future campaigns. Here are 3 steps to follow when measuring campaign success:
Tracking metrics
When tracking metrics, it's essential to focus on metrics directly related to your campaign goals. For instance, you should monitor the number of website clicks or conversions if your objective is to increase sales. You should monitor metrics like reach and interaction to raise brand recognition.
Analyzing campaign results
After your campaign, it's critical to evaluate the results and pinpoint areas that need improvement. This involves looking at the data collected during the campaign and assessing how well the campaign achieved its goals. It's essential to identify any successes and any areas that need improvement.
Adjusting future strategies
Based on the analysis of your campaign results, you can adjust your future strategies to optimize performance. This could involve working with different influencers, adjusting the types of content being shared, or revising your messaging. It's important to continually optimize your influencer marketing platform strategies to ensure you are reaching your target audience and achieving your campaign goals.
Wrap up
Influencer marketing is an effective strategy for spreading the word about promotional products and reaching new markets. The right influencers must be found, a thorough strategy must be developed, solid relationships must be formed, and metrics must be tracked and analyzed to determine the effectiveness of the campaign.
At High Peak Software, we specialize in helping businesses leverage the power of influencer marketing to achieve their marketing goals. Our team of marketing can assist you with finding the appropriate influencers, creating a thorough strategy, and executing and evaluating your campaign for optimal impact. Don't pass up the chance to use influencer marketing to expand your audience and increase engagement. To find out more about how we can assist you in scaling up your marketing objectives, contact us and request an influencer marketing proposal.
Subscribe to our monthly newsletter