How Enterprises Reduce Financial Expenditure Through Outsourcing
Radhika Madhavan
Director of Marketing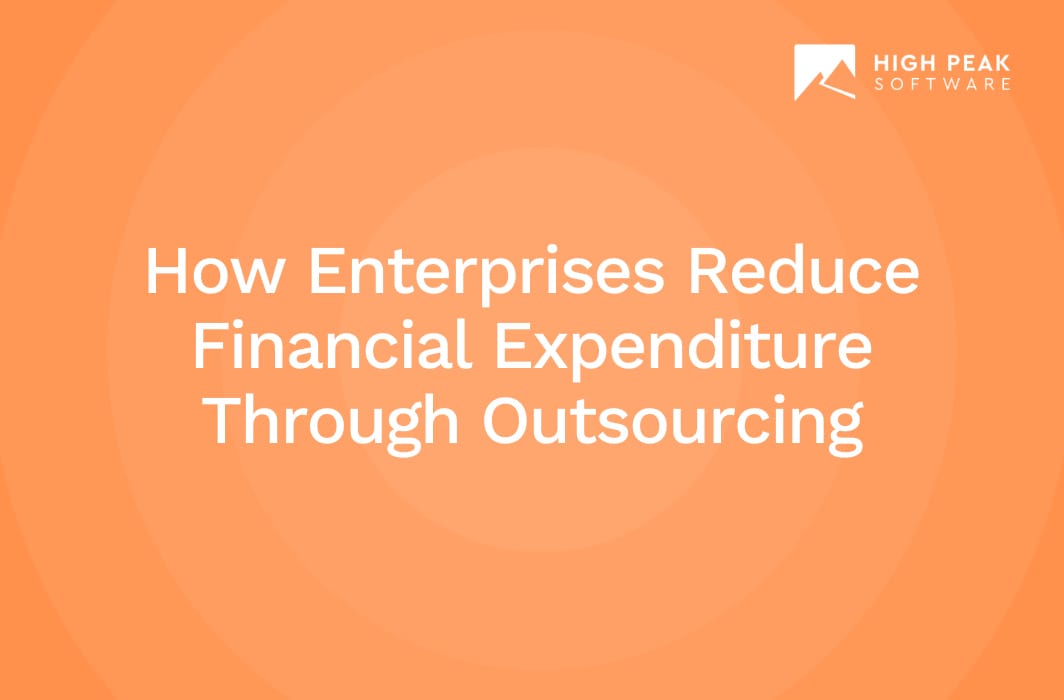 Table of Contents
---
Outsourcing has been a practice since the '90s and companies have benefitted largely by the process. Now a multibillion-dollar industry, outsourcing plays a vital role in a company's everyday affairs. Statistics say that the industry will only grow in the years to come. Data shows that the growth of the global outsourcing market will increase from $65 billion USD in 2017 to $120 billion USD in 2022. From the manufacturing of components to customer service resources, major operations can be and are outsourced.
But why do companies need to outsource? And more importantly, when?
A company can outsource its business processes when they want to increase efficiency and keep up with the competition in the market. For this, they need to be able to deliver faster results and maintain the quality of the work at the same time. By outsourcing work, they can get the required professional expertise without investing in recruiting and training in-house employees.
Ideally, companies outsource services or operations to save overhead costs. But that's not the only reason. Most companies have benefited from the process in terms of efficiency and growth.


Categories of Outsourcing
Broadly classified there are three categories of outsourcing:

Business Process Outsourcing: This process mostly deals with back office and front office operations of an organization. For example, companies outsource operations like employee payroll management to third-party vendors as business process outsourcing.
Infrastructure and Technology Outsourcing: refers to the outsourcing of networking and technology-related services to a third-party service provider.
Software Outsourcing: This refers to the outsourcing of the software development process to a third-party provider.


How Companies Reduce Costs Through Outsourcing
Shift Focus on Core Business Aspects
Organizations often have limited resources and they need to make sure those resources are utilized in an optimal way. Outsourcing some business processes helps because the company can then prioritize on more value-added services and focus on doing important aspects of the work.
By doing so, not only does the organization save costs but it also increases efficiency because the focus is on core competencies and not operational work like payroll or accounting. Ever since outsourcing has been adopted as a regular practice by companies, it has been realized that revenues have nearly doubled as a result.
Two decades ago, the market size for outsourcing on a global level was close to $45 billion USD. In the present scenario, the number has gone up to $88 billion USD which is nearly double of the market size in comparison to when it first came into existence.
Infrastructure Costs
Research suggests that outsourcing reduces infrastructure costs by nearly 52 percent. Outsourcing eliminates the need to build a separate infrastructure.
Companies can outsource the business process to an outsourcing partner that already has the required infrastructure in place. This will reduce the cost of infrastructure both in the case of software and hardware infrastructure. Moreover, it also reduces staffing costs and infrastructure management costs.


What are the Advantages of Outsourcing?
Taking on More Projects
Companies can use their time and resources effectively by taking on more projects and outsourcing the smaller parts of the job to outside firms. This way the organization can establish a place for itself in the market and stay ahead of the competition.
Not only that but taking on more work also helps the company to build a strong portfolio and generate greater profits in doing so. In 2018, the global revenue for business and information technology process outsourcing was nearly $62 billion USD.
Contractual Employment
The major reason why companies started to outsource their business processes was to save money.
According to research, total training expenditure in the US alone amounted to $87.6 billion USD in the previous year. Companies can instead work with people who are experts in the field without hiring them physically in the company. This means they can hire people with the right skills for a temporary period instead of providing permanent employment.
Round the Clock Business Operations
Keeping up with the market competition requires that companies work with the top talent in their fields without the risk of losing business over it. This means that having low skilled employees doing the job will impede the company's growth and efficiency. On the contrary, the company cannot afford to spend large amounts of resources into hiring and training its candidates. This is where outsourcing becomes so important.
Work is usually outsourced to developing countries with a highly educated population, for example, India. The employees of such countries cost less and are available for round the clock work because of varying time zones. This makes them an interesting option to consider. Research statistics of a survey that was conducted for the years between 2016 and 2027 showed that worldwide staffing of hardware and software services dropped the costs by $821 billion USD. By outsourcing their business functions, companies can not only save costs but expand their search globally to ensure that they get the right kind of talent and expertise to do the job. For instance, companies like Texas Instruments have set up their R&D center in India to minimize costs and tap into global talent.
Branding
Traditional branding techniques are becoming outdated and companies want to create a niche for themselves by doing something out of the ordinary.
One of the hidden advantages of outsourcing is that it helps develop and promote the company's brand. It can also attract the attention of investors because the company is more focused on the activities that generate revenue while the day-to-day activities are carried out by the outsourcing provider.


Conclusion
In today's uncertain market scenario, adopting a strategy to make the best use of company resources isn't an option anymore. Outsourcing is one such strategy that companies deploy in order to tackle cost issues and improve overall efficiency. If reports are to be believed, the global outsourcing market is expected to grow from $27 billion USD to $47 billion USD by the year 2020.
Not just saving costs, outsourcing also helps companies to save on infrastructure and technology. It gives them access to skilled resources and allows companies to focus on core aspects of the job while outsourcing other business functions.
In recent years, business and service process outsourcing has gained traction and companies consider it a strategic decision rather than as an option. Moreover, the business philosophy that existed earlier, where companies believed that it was more resourceful to acquire other companies has changed. Now, companies want to expand by taking in more suitable projects and the focus is on research and development of a better future of the service or the product. To achieve this, companies undertake varying degrees of outsourcing ranging from total outsourcing to selective outsourcing of the business process.
If you'd like to publish us in your publication, please reach out to us at marketing@highpeaksw.com.
Subscribe to our monthly newsletter