Why Choose High Peak for RFID Asset Tracking System development?
Ayaan Bhattacharjee
Content Writer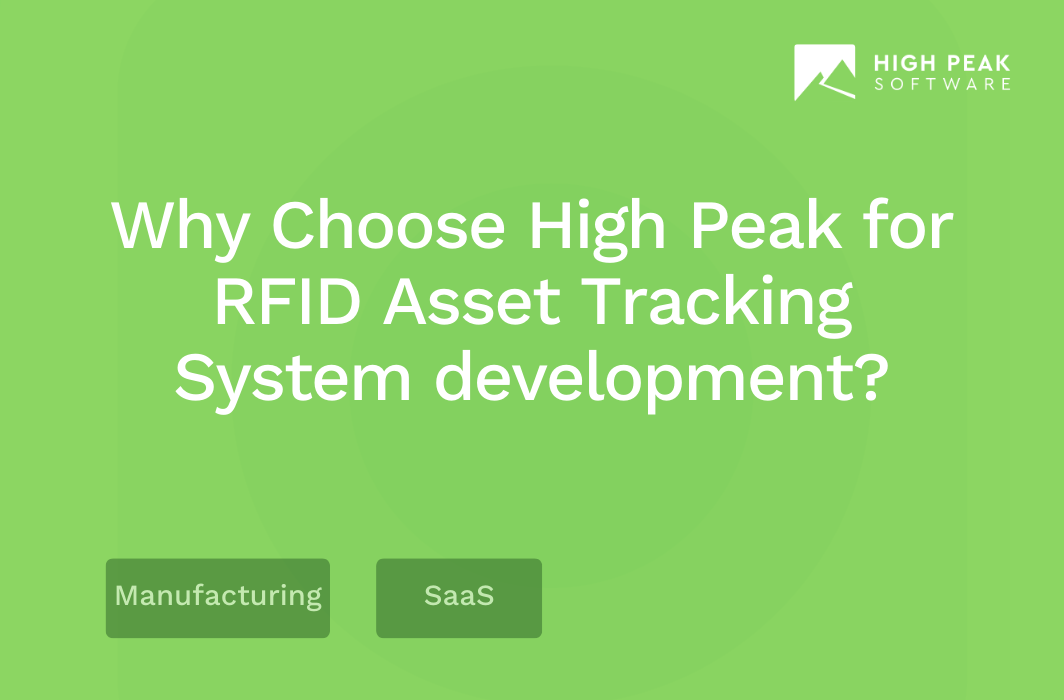 In the rapidly evolving world of aviation manufacturing, tracking assets and inventory effectively is paramount. From 2022 to 2031, the global RFID market is projected to develop at a CAGR of 10.2%, reaching a size of $31.5 billion. Thanks to advancements in technology, technology has significantly streamlined this process. High Peak Software's cutting-edge RFID asset tracking system serves as an exemplar of innovation in this domain.
Offering unmatched scalability, security, and efficiency, it revolutionizes how aviation manufacturers manage their assets. This transformation has vast implications for productivity, logistics, and bottom-line results in the industry. Thus ushering in a new era of increased accuracy and unparalleled operational ease. Explore why High Peak should be your first choice for your next RFID asset tracking software purchase.
What is RFID asset tracking?
RFID, or Radio Frequency Identification, asset tracking is a technology that provides real-time visibility of an organization's assets. It utilizes electromagnetic fields to automatically identify and track associated tags attached to objects. These RFID tags for inventory contain electronically stored data that can be read from up to several meters away. Now unlike barcodes, they don't need to be within the direct line of sight of the reader.
While traditional tracking methods are often cumbersome and prone to errors, the RFID asset tracking system provides superior accuracy and real-time updates. RFID asset tracking works by attaching RFID tags to assets, which are then read by an RFID reader. The data gathered is sent to a tracking software system and provides organizations with vital information about the location, movement, and status of their assets.
In industries like aviation manufacturing, this technology is highly beneficial, transforming operations by ensuring maximum efficiency and inventory accuracy. From tracking airplane parts to equipment and tools, RFID scanners enable swift identification and location tracking. This is essential in reducing loss or misplaced assets. Thus boosting productivity and improving overall operational efficiency. The technology ultimately reduces costs and mitigates risks associated with misplaced or lost high-value assets.
High Peak's RFID Asset Tracking System
High Peak Software's RFID asset tracking system is an innovative solution designed to revolutionize inventory management in complex industries, such as aviation manufacturing. The RFID asset tracking system opens the door for optimized and cost-effective operations by specializing in meticulous component monitoring. Thus catering to the intricate demands of the aviation sector with unprecedented efficiency.
What are the main components of High Peak's RFID asset tracking system?
The RFID asset tracking system comprises two main components. The first is a web-based platform used for uploading and managing RFID-related data. The second is a mobile application paired with RFID scanners for on-the-floor checks. Let's see the features of the RFID asset tracking system in detail:-
Web application modules
User Management: Distinct user categories enable collaboration between admin users and the operational workforce in managing the RFID tracking system.
Dashboard: Centralizes crucial information, password reset requests, and user-addition capabilities, offering a user-friendly experience for super admins.
Devices: Provides detailed insights and note attachment features for effective record-keeping and management of RFID devices.
Activity History: Transparently documents tag-related actions for improved tracking accountability.
Add Tag: Manual entries and efficient bulk processing through CSV import, enhancing inventory organization and access.
Search: Advanced search capabilities promote improved user management and precise control of RFID data.
Mobile application modules
Import: A comprehensive import mechanism streamlines data management and ensures operational efficiency.
RFID Tag Filtering: Refines RFID tag display, addressing the client's specific requirements.
RFID Tag Quantities: Presents accurate quantity information sourced from the admin app.
Notes: Streamlines record-keeping and promotes data accessibility through easy annotation export.
Intelligent Imaging: Revolutionizes RFID tag detection, streamlining inventory tracking and eliminating traditional manual processes.
Who are the users of High Peak's RFID asset tracking system??
High Peak's RFID asset tracking system caters to diverse sectors requiring optimized inventory management and meticulous component tracking. Also, the primary beneficiaries of this system are aviation manufacturers, who must comply with specific guidelines and manage various components accurately and efficiently.
Governmental aviation entities, such as those handling sensitive assets, can also greatly benefit from this meticulous tracking approach. Moreover, the RFID asset tracking system is advantageous to broader industries requiring supply chain management, providing them with efficient oversight of critical components, precision, and compliance.
What are the security and compliance assurances of this RFID asset tracking system?
High Peak's RFID asset tracking system adheres to stringent security standards like SOC 3 (System and Organization Controls 3). It ensures the development and implementation consistently maintain a secure approach. Also, it has comprehensive training materials, including phishing, spam, and spoofing techniques, equip personnel with in-depth security awareness. 
Besides that, High Peak's development process prioritizes comprehensive security to mitigate external threats effectively. The design of the internal aspect of password management meticulously upholds security standards. Also, to guarantee the safeguarding of sensitive user information throughout the RFID tracker system. These practices underscore High Peak's unwavering dedication to maintaining a secure operational environment for its RFID asset tracking system.
Why Choose High Peak's RFID Asset Tracking System?
High Peak's RFID Asset Tracking System stands out for its unique blend of precision, customization, and advanced technology. Thus making it an irreplaceable tool in aviation manufacturing. Let's see why High Peak proves to be the best software company.
Customization
Customization is a key strength. The system is modified meticulously to fit client requirements and streamline various processes. It ranges from tracking individual components to generating custom reports. Efficiency is another hallmark of High Peak's system. It fosters maximum productivity through real-time updates and focused inventory management.
Web-based and on-premise platforms
Moreover, High Peak's RFID asset tracking system bridges the gap between web-based platforms and on-premise functionality, tailored to adapt to dynamic server changes effortlessly. With an easy-to-use tailored mobile app and web application, users find the experience intuitive and user-friendly. Thus, choosing High Peak's tracking software means opting for a sophisticated, secure, and efficient approach to the RFID tracker system.
A distinctive feature of High Peak's RFID asset tracking system is its 'on-premise-only' functionality, meaning the mobile application operates independently from broad internet or cloud connectivity. One of its strategic solutions for ensuring seamless application access across evolving server configurations involves a server details page displayed at the application launch. Users can input server-specific information or default server IPs, subject to a health check for validity.
High Peak takes challenges as new opportunities
High Peak navigated various challenges to refine their client's RFID asset tracking system. Thus tailoring a mobile application that displays only pertinent RFID data. They synchronized server and mobile app information for more focused scanning and established robust mechanisms for internal client servers. Hence, allowing server detail alterations to resolve IP address concerns.
Amid procedural hurdles from government affiliation, the team persistently developed a system that catered to frontline manufacturing workers wielding RFID scanners. Also, the team overcame mobile app deployment within a unique client environment by designing an application for internal servers.
To address the potential concern of server IP changes, developers created a server details page where users can input specific server details or select from the default ones. Thus, High Peak's tailored solution to RFID asset tracking system challenges showcases its resilience, adaptability, and innovative approach. With a dedicated focus on improving accuracy, productivity, and security, their commitment to user-specific solutions is why High Peak is the preferred choice in RFID tracking.
Conclusion
High Peak's RFID asset tracking system offers a competitive edge to aviation manufacturers and a range of industries requiring rigorous asset management. Also, the RFID tracker optimizes inventory management, enhances tracking accuracy, and propels operational efficiency. It's tailored to meet industry-specific needs while ensuring robust security and compliance. Hence, experience the best in RFID tracking.
Why not see firsthand how it can revolutionize your asset management process?
Reach out to High Peak software and get in touch for such a transformative development of the RFID asset tracking system.
Subscribe to our monthly newsletter