Scirevance: Intelligent Knowledge Management Software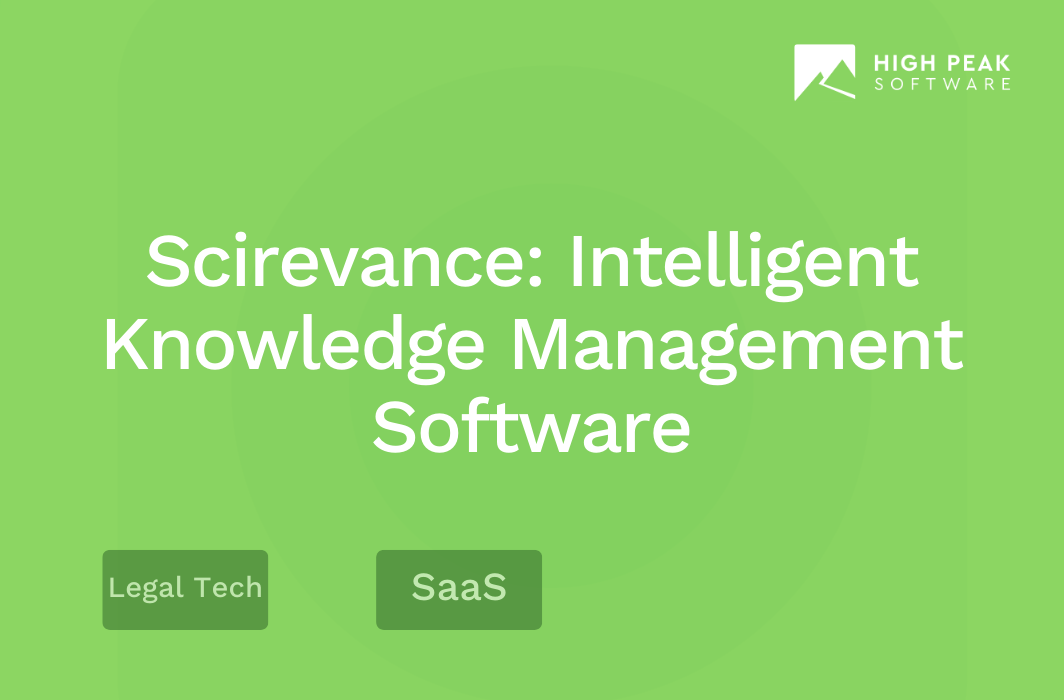 Table of Contents
About our client
Our client, John Siniawski, is the CEO of Scirevance. John's journey has been marked by decades of advocating for People, Processes, and Technology while breaking down silos and biases. His current milestone in this journey is Scirevance, a Knowledge Process Platform that optimizes processes, captures thoughts and enhances individual and enterprise capabilities. By valuing and sharing knowledge, John believes knowledge management software becomes a powerful legacy that empowers the future. Hence, Scirevance embraces technology and learning methodologies to turn information into actionable knowledge.
About the product
Scirevance is an advanced knowledge-processing software designed to provide users with optimal process optimization, efficient thought capture, and enhanced capabilities within their enterprises. Through the utilization of cutting-edge technologies and innovative learning methodologies, this knowledge management software fundamentally transforms the way document-fed information is understood. It streamlines the silos of organizing, analyzing, measuring, cultivating, and retaining knowledge bases assets. By integrating narrative intelligence, learning, and natural language processing (NLP), Scirevance enables real-time analysis and simplifies document management. Also, it empowers users to create comprehensive and successful reports right from the outset.
More than just a standalone application, this top knowledge management software functions as a dynamic process platform. Our solution not only converts information into tangible knowledge but also equips your organization with unparalleled insights. By distinguishing itself from conventional data management tools, our specialization lies in effectively harnessing unstructured content. Thus, ensuring the preservation of every critical detail.
Key highlights
Knowledge Retention
Our platform goes beyond data storage. Our knowledge management software safeguards the collective wisdom of your team, capturing notes, statements, and various documents. Hence, ensuring continuity even with personnel changes.
Project Empowerment
Seamlessly applies historical knowledge to current projects. Also, easily trace the evolution of decisions, actions, and strategies for comprehensive context and strategic alignment.
Chronological Clarity
Effortlessly understand why, how, and when actions were taken. Visualize the entire timeline, fostering accountability, transparency, and informed decision-making.
Narrative Insights
Capture lessons learned through our narrative capability, fostering growth and optimization as you gain a deeper understanding of your processes.
High Peak's intelligence augmentation system empowers legal entities (for now) to construct powerful and winning case narratives.
You know, our client had an eye-opening moment when they stumbled upon some revealing stats from McKinsey and IDC. It turns out that employees spend a whopping 1.8 hours every day, that's 9.3 hours per week on average, just searching and gathering information! Can you believe it? And that's not all. Another report by IDC showed that knowledge workers spend about 2.5 hours per day, almost 30% of their workday, searching for information.
It was quite a shocker for them, but it also sparked an idea. He realized that if he could create a searchable record of knowledge, it could actually reduce the time employees waste on searching for company information by up to 35 percent! That's huge in terms of productivity gains and efficiency.
So, that's when HPS got to work on developing this incredible knowledge management software. His goal was clear: to help businesses streamline their processes, optimize the way they gather and manage information, and ultimately save valuable time for their employees. And you know what?
The HPS team nailed it! Now, with our knowledge management software in place, legal entities can build powerful and winning case narratives without wasting precious hours on information searches. It's a game-changer! It is an industry-agnostic software. Currently, the focus is on legal tech. Hence, lawyers around the globe can leverage Scirevance for its following capabilities:
Simplifying narrative building through powerful data visualization
Constructing a winning narrative arc relies on the trial lawyer's ability to present facts and evidence in a way that alters each piece of evidence's individual significance by merging it into a coherent story that resonates. This arc establishes a matter's thematic thread that can be carried to the closing argument.
Scirevance enables lawyers to go above fact-finding and build a compelling narrative that does more than sequence facts or tell events in a particular order. Also, the platform's advanced note-taking and event identification features capture an individual lawyer's unique process and present it through interactive chronologies and visualizations. Thus enabling lawyers and legal teams to structure the basis for their multifaceted arguments.
Accelerating matter investigation
Manually searching through a large amount of documentation drastically slows down the momentum of case investigation. It is also highly error-prone. Scirevance's knowledge management software speeds up the case analysis process by transforming data into interactive visualizations that empower teams to identify hidden data patterns, discover new questions, and deliver actionable insights. Additionally, the platform consolidates all types of documents and acts as a library to retain them in a single place for easy retrieval and collaboration.
Intelligent mapping relationships between matter and documents
Because lawyers and legal teams deal with a lot of paperwork, the manual classification of documents is often resource-intensive and error-prone. Using artificial intelligence and natural language models, Scirevance helps lawyers find the correlation between multiple case attributes. It is done by providing simple yet powerful data visualizations and intuitive search capabilities. Hence, this helps them reduce the time taken to prepare for all litigation phases, increase efficiency, and free up staff.
Why did Scirevance first approach High Peak to build a powerful knowledge and intelligence augmentation system?
Dissatisfied with the state of knowledge management processes prevailing in the market and the cost associated with it—especially for businesses that are documentation-heavy in nature—Scirevance's goal was to build a comprehensive platform for better document collection, processing, review, analysis, and visualization from the ground up for the legal industry.
Hence, to solve this issue, Scirevance connected with High Peak Software to develop an analysis platform that empowers legal entities and lawyers to create powerful narratives and enhance the storytelling experiences with supporting data.
Every litigation matter has thousands of documents, such as emails, transcripts, briefs, contracts, and NDAs. Lawyers and legal professionals have to deal with large volumes of paperwork and documentation. Vetting and culling these documents takes multiple reviews, which are often time-consuming and costly.
Also, these activities include conducting extensive research, creating a chronology and timeline, fact-checking, documentation and review, and much more. A documentation backlog is created if the process to complete these tasks is not automated, smooth, and quick in returning actionable insights.
In order to enable lawyers from small and medium law firms with a technology advantage, Scirevance wanted to create a self-learning knowledge management software to help legal teams:
The features include:
Dynamic process platform converting info to knowledge, empowering with unique insights. Expert in managing unstructured content for vital preservation.
Speed up the case investigation and analysis processes by transforming data into intuitive visualizations that empower lawyers to identify hidden patterns, discover new questions, and deliver actionable insights from day one.
Quickly understand the cases, and capture their thoughts and notes while enhancing their focus to develop a compelling narrative for clients.
Manage a single source for all their matter-related documentation. Whether those are self-notes, documents from clients and oppositions, facts from any other related matter, or opinions from an external expert, every document is retrievable from one place on the device of their choice.
Access and highlight case-relevant information by obtaining accurate reports with custom-tailored interactive visualizations.
Easily handle more cases with less overhead by streamlining the document review and analysis process.
Retain institutional knowledge regardless of turnover or unforeseen disruptions. The platform acts as a library to retain all types of documentation in a single place for easy retrieval and collaboration.
Dynamic process platform converting info to knowledge, empowering with unique insights. Expert in managing unstructured content for vital preservation.
High Peak encountered and solved several technical and business challenges during product design and development.
Manual documentation process and information overload
A typical case would mean collecting thousands of documents consisting of scanned PDF files, native documents and emails, images, chat logs, and other related documentation. Relying on manual classification or overtly technical systems for such tasks is complex, resource-intensive, error-prone, and highly inefficient.
Solving for an intuitive, scalable, and robust solution focusing on data security
Lawyers and law firms are constantly entrusted with highly sensitive information about their clients. As a course of their business, the need for effective data security is of critical importance. While solving the bottlenecks in the enhanced document analysis process, Scirevance wanted to ensure that their digital solution would be sophisticated yet easy to use while securely handling highly sensitive matter-related documents. At the same time, the solution should be built for scale and has to be robust enough, as vast volumes of data would be uploaded, processed, and extracted for analysis by the users.
Designing a narrative-building automated e-discovery platform
The concept of storytelling, or narrative, is integral to any trial lawyer's preparation. Building a narrative relies on the trial lawyer's ability to present facts, issues, and evidence in a way that alters each piece of evidence's individual significance by merging it into a coherent story that resonates. Also, our team needed to develop an end-to-end solution for lawyers and legal teams that goes beyond a mere e-discovery application to assist them with their trial preparation by constructing a compelling storyline.
Complicated user interface
Within legal technology, we noticed that the tech development focus is entirely on the solution's features, and user experience is not considered necessary compared to a checklist of capabilities. Moreover, based on our primary market research, we recognized a clear need for an intuitive e-discovery platform in the market, as e-discovery platforms with a non-intuitive user interface make it extremely challenging for non-technical users to adopt the application and its powerful features to reach their full potential.
A major challenge for our team at High Peak was to make sure that the application's user experience and interface design were intuitive and easy to use. Thus, making the knowledge management software straightforward for lawyers to navigate and utilize the application swiftly.
Disconnected and unorganized offline workflows
Due to the multiple sources of matter-related information, offline workflows make it very difficult for the entire legal team to collaborate effectively. Information is unorganized and often present in silos, making the discovery process highly counterproductive. Therefore, it was critical for our team to make an integrated system that can act as a single source of truth and help end-users seamlessly adopt new digital workflows.
Ambiguous presentation for seamless note-taking and referencing
The High Peak team faced a significant challenge in their document processing and analysis system when users uploaded files containing complex information, such as email conversations, events, or case-related content. The main issue was the extraction and presentation of relevant data for users to create notes and references in a seamless and intuitive manner.
When a user uploads a file, the High Peak system utilizes Natural Language Processing (NLP) to extract text data from the document. This extracted text was displayed as "process data." However, the challenge arose when the extracted content included complex structures like tables or mixed content that could be interpreted as both text and tabular data. Users were unable to directly specify whether such content should be considered as text or a table, leading to confusion and potential misinterpretation of the document's structure.
The High Peak team overcame this by introducing a dynamic view. Users could easily switch between extracted text and the original document, facilitating clearer understanding. This empowered users to select text, highlight content, and create meaningful notes, especially for legal purposes. This enhancement improved document analysis, usability, and overall user experience. This version showcases graphics from the document and displays tabular content. Importantly, you now possess the capability to effortlessly craft statements and notes.
A reliable intelligence augmentation system using proven processes, empowering Scirevance to expedite legal investigations effectively.
Based on the challenges faced by Scirevance's team and aligning with the vision to make lawyer's day-to-day processes more efficient, our partners at High Peak came up with an intelligence augmentation system to cut through the drawn-out process of document review and return end-users emphasis where it belongs – on winning the case.
Product discovery & ideation
At the very beginning, our team of engineers, data scientists, and project managers conducted various brainstorming sessions to understand and define the problem statement that our partner was trying to solve. After gathering the initial set of requirements from all the stakeholders at Scirevance and conducting an exhaustive competitive analysis, our team came up with the following:
An e-discovery platform that quickly identifies connections between documents, initiates review (TAR) helps lawyers deliver valuable insights faster, and
A knowledge process system that streamlines the matter analysis process and transforms the way legal teams interpret their data.
After the initial product rollouts (beta), we started conducting user interviews to understand how efficiently these solutions are helping our target audience. Consulting with subject matter experts made us quickly realize that the end-users are not comfortable using multiple and separate tools for their daily workflows.
We also had to address the ease of user adoption, as our end-users would be moving from their traditional workflows to an integrated digital platform. Our research and focus groups suggested that combining our case analysis tool with an e-discovery platform, and ensuring its optimum user adoption would be the key to our success.
Product strategy
We started again by rolling out case analytics features—particularly visualizations and search—to help lawyers with their analysis process while ensuring that the functions were correctly targeted. Furthermore, building an intuitive and easy-to-navigate interface was of utmost importance to increase product usability.
To solve this, our team started building mock screens before rolling out any new feature. These mock screens are then shared with all the stakeholders, including end-users, for their feedback. The entire interface of the best knowledge management software is designed like that. Slowly and steadily, we started incorporating other appropriate functions into the platform based on industry-specific use cases.
Product-market fit
Our team at High Peak strongly believes that any product has to evolve constantly in order to be categorized as a product-market fit. Our AI-powered knowledge management software is continuously getting trained/retrained on a vast amount of data that is uploaded to our system. Additionally, our team keeps optimizing existing features and building new ones based on the vision of an all-inclusive platform.
We also conducted focus groups to ensure we were set out in the right direction. We got our first win when a lawyer used the 'Timeline' and "Sentiment Analysis" features on our platform for the first time and got back to us by saying, "Not only do I know what somebody said, but now I also know how and when they said it in just a matter of minutes. This feature is going to change how lawyers traditionally function."
Product architecture
Our designed solution is built on the microservice-based architecture to ensure the platform is scalable, programming language & technology agnostic, provides better security & compliance, and can quickly process large data sets. One of the major highlights for our development team is that the current system is still running seamlessly on the initial architecture.
Product design
To ensure smooth product adoption and a user-friendly experience, we designed our product interface to be highly intuitive and easy to use. Using artificial intelligence and natural language processing capabilities, the product continuously learns and evolves based on the lawyers' input and adapts according to their workflows. Additionally, lawyers can create general notes and link them back to any matter in the system as required. Thus capturing their thought process and building a compelling narrative using simple yet powerful interactive data visualizations.
Product development challenges
Building a novel product from scratch comes with its own set of challenges. They are as follows:
Multiple iterations and approaches have to be considered while building every model, which is a resource-intensive process.
From a business standpoint, initially, the product usage wasn't happening in the way that we'd expected.
Additionally, to help our client with the best ROI possible, we have a lean team in place working on all aspects of the product, from product ideation to server cost optimization.
Product success
The product strategy evolved multiple times throughout its development, but our team at High Peak ensured that product development took place, keeping the end-users pain points in the center. As a result:
With an almost negligible marketing budget, our product has successfully onboarded multiple clients who are using it daily for e-discovery, narrative building, and case analysis needs.
Consequently, the product usage has significantly increased compared to when we first started.
More and more potential customers have started talking about it, and our team is super excited to take it to the next level.
Our team is currently building new features based on documentation-specific extractions to provide specific outputs.
The platform is expandable to work in any domain and is currently getting tested in new open markets such as Hedge Funds.
Solutions/Modules
Notes
The Notes feature now boasts enhanced flexibility. Originally tied to specific cases, it has evolved to accommodate versatile, generic notes applicable across matters. Users can tailor notes for client references or keep them private. Notably, notes can seamlessly transition between projects, optimizing contextual relevance. This feature allows comprehensive actions—creation, editing, and archiving—amplifying usability. The shift from generic to project-specific notes offers a cohesive narrative. This evolution underscores the platform's commitment to adaptability, empowering users with a dynamic tool to weave coherent and insightful narratives throughout diverse projects.
Within our knowledge management software, the note-taking feature stands as a pivotal tool, offering two fundamental categories of notes with nuanced refinements. The broader classification encompasses general notes, serving as a versatile reservoir for diverse interactions. At the outset, it's instrumental for initial client engagements or preliminary research, fostering comprehensive data capture.
By transitioning beyond mere note-taking, the knowledge management software facilitates seamless integration of these general notes across projects, streamlining the building process. It mirrors the quintessential professional workflow—initial note-taking, thorough analysis, synthesis, and culminating in a compelling narrative. This universally applicable framework caters to myriad sectors—healthcare, finance, consulting—while accommodating specific variations.
By meticulously documenting insights, narratives, and lessons, our platform empowers knowledge retention and efficient knowledge transfer. It ensures the legacy of expertise remains embedded within the organization, facilitating continuous growth and improvement. This approach, notably, echoes Pfizer's success—a notable 15% increase in organizational efficiency attributed to note-taking capabilities.
Consolidated narratives
The inclusion of a consolidated narrative serves a strategic purpose, enabling management to comprehensively review diverse projects and extract pertinent data. This feature facilitates targeted searches across projects, culminating in a generalized narrative. This narrative transcends individual projects, proving invaluable for client-specific contexts, presentations, or speeches. The knowledge management software further encompasses comprehensive client data, including contact details. As users delve into projects, they access team composition and project descriptions and conduct a thorough analysis. This dynamic capability remains closely tied to specific clients, elevating project insights and strategic decision-making within a client-centric framework.
Project/Trade
General Search
USP: Introducing the "General Search" capability, our platform empowers users to conduct comprehensive searches spanning documents and visuals. While previously consolidated, we addressed a unique challenge involving email threads. Threads, representing distinct conversations, were processed individually, resulting in fragmented views. To resolve this, we bifurcated the display to enable distinct thread visualization. Each thread, previously treated as an individual file, is now presented as a cohesive entity. This refinement ensures that users can seamlessly navigate and comprehend entire email conversations. By clicking on a thread, users access a consolidated view, eliminating the previous fragmentation.
The transition from our initial version to the current iteration involved a comprehensive reimagining of the user interface. In the first version, the project list dominated the interface, lacking the open-close option. Our focal point was the project, evident by the landing page initially named "Matters." Subsequent discussions, including insights from John, prompted a redesign. The updated view now emphasizes general notes upon login, catering to newly registered users. This thoughtful shift streamlines the onboarding process, enabling smoother interactions and note-taking during discussions, thereby enhancing user experience.
Advanced Technology Behind General Search
Our platform leverages cutting-edge technology to drive the "General Search" feature. At its core, we utilize Elastic Search—a robust and efficient search engine. This engine not only facilitates term-based searches but also incorporates synonyms through boosted terms. This strategic enhancement ensures a comprehensive and refined search experience.
Our process involves Natural Language Processing (NLP) to analyze and process data. The user's search term is seamlessly integrated into Elastic Search, which acts as the central database. All processed data, including the encountered extracted information, resides within this repository. For instance, a search for "ammonia" triggers an expansive scan, exploring the term itself and its related synonyms.
In a nutshell, the search functionality offers users dual perspectives. They can opt for a comprehensive overview, gain a high-level understanding of a topic, or zoom in to examine specific details. This versatility provides varied insights into a project, aiding comprehensive analysis and facilitating in-depth exploration. Users can seamlessly transition from a broad view to a granular focus, enhancing their grasp of project nuances and enabling effective learning and decision-making.
Note: The knowledge management software is integrated with Slack. It offers email and Slack thread analysis, reflecting evolving communication trends. While email remains useful for less urgent interactions, Slack's immediacy suits real-time trading demands. Notes capture these exchanges, providing a chronology that aligns events with conversations.
Extracting events from documents, though not flawless, enriches the timeline. Event extraction, a unique capability, shows promising results comparable to leading labs. As generative capabilities advance, finer precision is expected. This distinct feature enhances comprehension and historical context, bridging communication shifts for informed decision-making.
Overview- Interactive knowledge management system that enables easy collaboration between the legal team and its clients
We designed and developed a smart and interactive matter management system to improve knowledge-driven work as well as to improve users' general processes to optimize outcomes. As any matter involves multiple stakeholders, it operates on role-based access and caters to four types of users corresponding to their functionality:
Global admin
Firm admin
Case owner
Team member
Once logged in, users can create projects and trades with attributes such as matter titles, dates, facts, notes, etc., and also invite collaborating users to participate in, contribute to, and access details and documents of a particular matter as per their requirement. Moreover, the applications record all the activities that a team member on the case has carried out. This makes collaboration between dynamic teams much easier.
Sample | Overview of the Matter
Library- Automated document classification powered by self-learning algorithms saving thousands of manual hours
Document classification tasks can be a massive bottleneck as they receive a large number of multiple document types to process. Before actually extracting data from these documents and organizing it afterward, they need to classify these documents into respective categories. Once a project is created, our system allows users to upload all kinds of documents, such as text, PDF, images, chat logs, etc., in bulk.
Our knowledge management system software is powered by intelligent techniques such as Machine Learning and Deep Learning to effectively manage these documents with large amounts of unstructured information. These Machine Learning and Deep Learning models get better with time and help us make the document classification process much faster, more scalable, accurate, and cost-effective when compared with manual classification.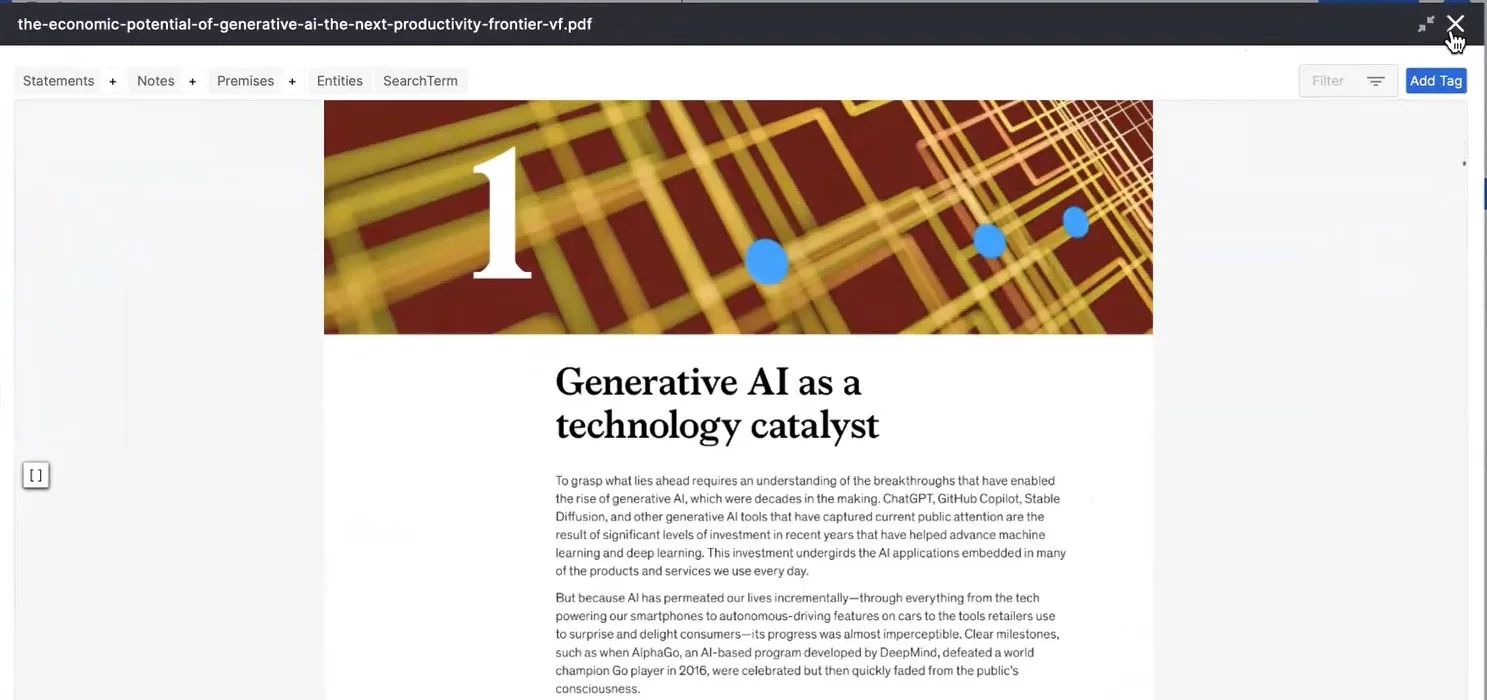 Sample | Processed Document
The primary objective of utilizing process data is to enable effective text selection and note creation, addressing the challenge of non-selectable PDF content. This functionality facilitates future case referencing. With the dynamic view, original PDF content becomes accessible, including table elements. This feature aims to enhance user experience by offering diverse views, supporting note creation, and ensuring seamless functionality. Any queries about this feature are welcomed.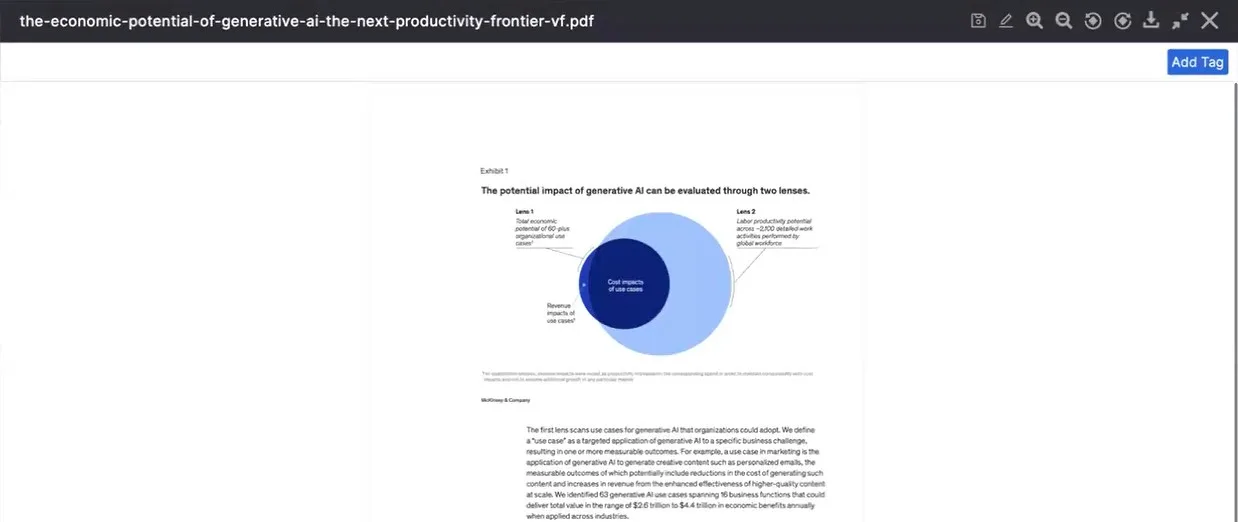 Sample | Original PDF Document
As users start uploading documents, it automatically detects various types of documents and categorizes them based on their formats. For instance, the user can upload contract documents, invoices, and images to the platform, and the platform is capable of identifying it as such automatically. Users of this enterprise knowledge management software can then access the files based on their format, folder structure, and type. Also, users can add a statement, note, and premise in the original uploaded document.
Visuals and Analytics Tab
Timeline

Previously, the system lacked the ability to associate uploaded files with specific dates and times for chronological organization. To address this, we've now incorporated a feature enabling users to attach dates to their file uploads, enhancing the timeline presentation. The Timeline feature captures data chronologically, showcasing the upload history of files.
It provides comprehensive insights across different time periods. Users have the ability to retrieve specific information from desired dates, enhancing data retrieval efficiency. In this section, you'll find a comprehensive list of documents, including PDFs, document versions, and more.
Additionally, email files are tracked, with a count for each. Notably, we've introduced sentiment analysis powered by NLP. This analysis detects positive and negative sentiments within files, aiding users in understanding content nuances at a glance. Positive and negative sentiments are visually highlighted, providing valuable insights and facilitating efficient document assessment.
Incorporating sentiment analysis introduces a nuanced dimension. The definition of positive and negative varies, molded by perspectives and roles. Whether legal, financial, or diverse fields, sentiment adapts – a positive statement can be negative in another context. Users wield control, adjusting system-indicated sentiments and facilitating a personalized outlook.
Our approach entails harnessing AI within a curated information ecosystem, avoiding indiscriminate web scraping. Tailored AI sources, user-defined data, and a knowledge repository converge. This orchestrated synergy empowers multifaceted utilization – learning, compliance, strategizing, and presentation – a comprehensive suite deftly orchestrated for diverse industries.
Topic Clustering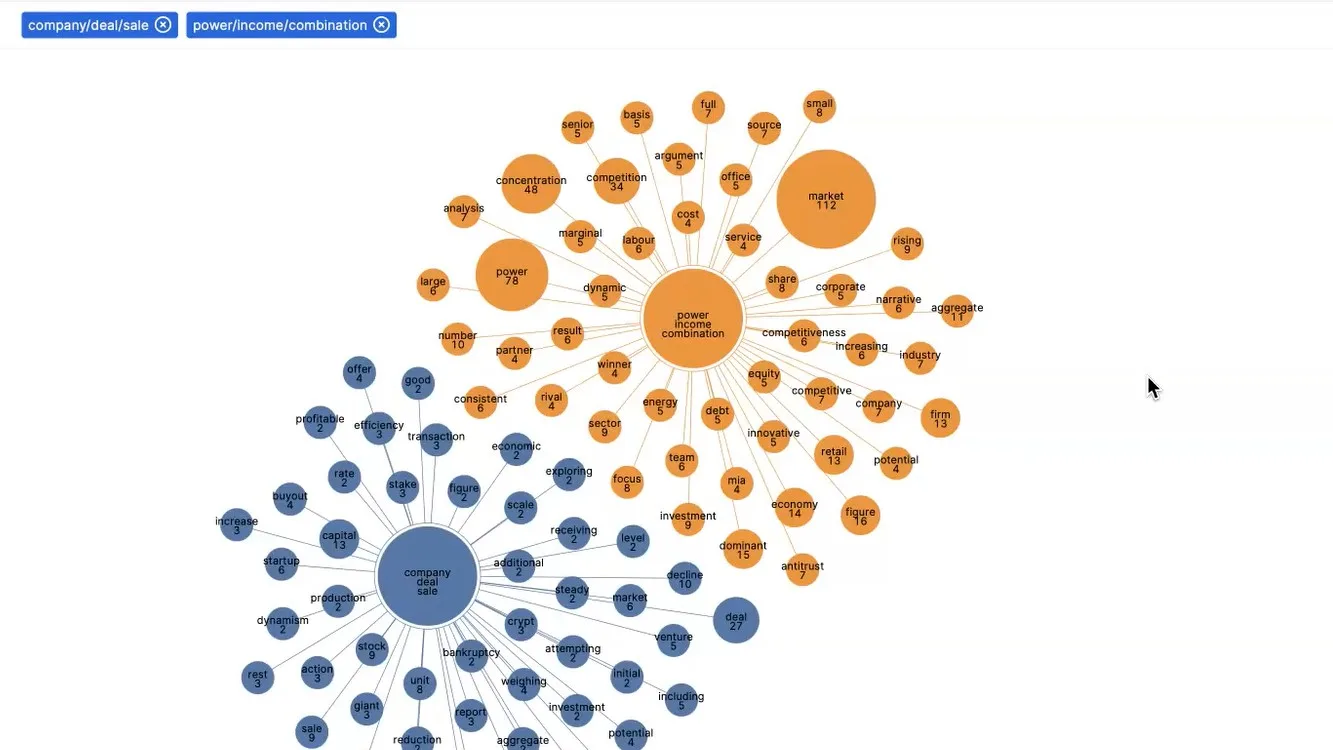 Topic Clustering is a powerful tool for your case exploration. It caters to new users seeking clarity within the application. When faced with an unfamiliar case, users can seamlessly navigate to the topic clustering section. Here in our knowledge base management software, the tool identifies and presents the prominent subjects existing within the project. These topics are meticulously curated, capturing the essence of the case.
Upon selecting a topic, such as "feeling," the tool conveniently compiles documents containing or related to that specific keyword. This approach allows users to gain a comprehensive understanding of the case's content and intricacies. For newcomers and those seeking efficient comprehension, the Topic Clustering feature serves as a valuable gateway, enabling swift and insightful exploration of the case's core themes and details. On clicking, the particular object opens the folder where the folder or the file is located.
Heat Maps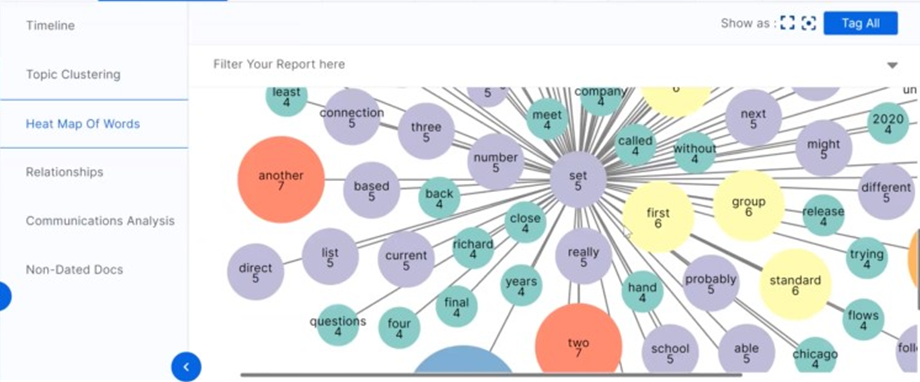 Also, in Visuals and Analytics, our Heat Maps offer a data visualization feature. Understand word relationships within your documents through a visual representation. This heat map illustrates word associations, aiding detailed analysis. This legal knowledge management software simplifies complex connections, empowering you to make informed decisions based on a comprehensive view of your case materials.
Relationships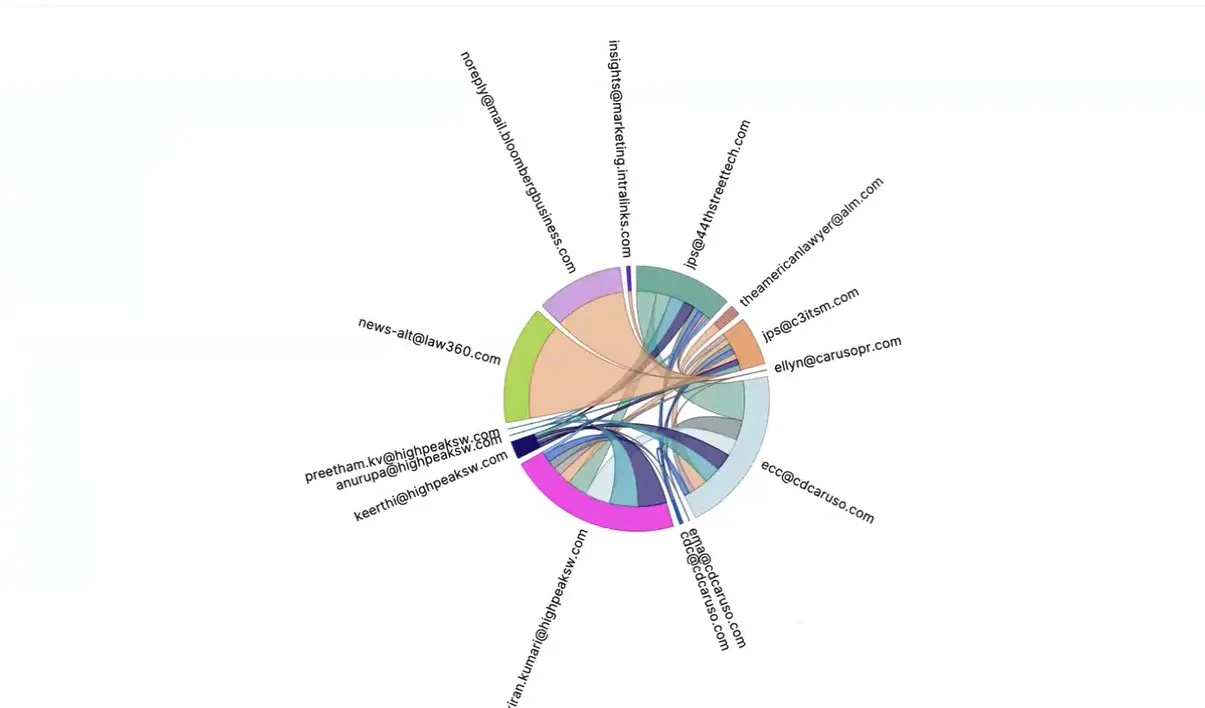 The Relationships feature introduces a dynamic dimension crucial for understanding the intricate connections within your data. Imagine a scenario involving communication exchanges across different domains, each representing a distinct aspect. Consider, for instance, the Vegas domain, where files hold email conversations between diverse entities.
By interlinking these domains, we illuminate the intricate web of relationships. The personal knowledge management software meticulously maps out the senders and recipients of each email, portraying a comprehensive web of interactions. This visual representation unveils how domains communicate, allowing you to discern patterns and connections that might otherwise remain obscured.
In practical terms, this means when a user uploads a file—a crucial email conversation, perhaps—pertaining to a case, the knowledge management software intelligently identifies relationships across domains. This breakthrough ensures you can effortlessly capture notes for future reference, highlighting pivotal elements in depositions. Ultimately, this strategic enhancement empowers you to uncover critical insights, transforming seemingly disparate data into a cohesive and valuable resource for informed decision-making.
Communication analysis

In our pursuit of elevating efficiency and insight, we introduce a groundbreaking feature – the communication analysis with a top-level graphical display of the inner happenings within the tool. Imagine unraveling complex email threads with precision, not just deciphering content but identifying who was left out and, more importantly, why.
A feature unparalleled in many competitions, this function brings a level of granularity that sets us apart. While others may offer basic categorizations, our tool uncovers the missing pieces, delving into the intricacies of a thread. This invaluable capability provides an edge, whether in legal cases, financial transactions, or collaborative projects, enabling users to swiftly identify shifts, disruptions, or even biases in communication dynamics.
This breakthrough showcases our commitment to delivering a next-level game changer in the industry. Our tool's prowess extends beyond thread analysis. The Chronologies feature, housing "Snippets," enriches the understanding of documents. These carefully curated snippets highlight essential facts and statements, offering instant insights while maintaining direct access to the original document.
This dual approach empowers users to not only craft precise summaries but also establish irrefutable linkages between their notes, arguments, and supporting documents. This seamless connection between analysis and evidence refines discussions, presentations, and narrative building, setting the stage for a more comprehensive and compelling approach.
Chronology Tab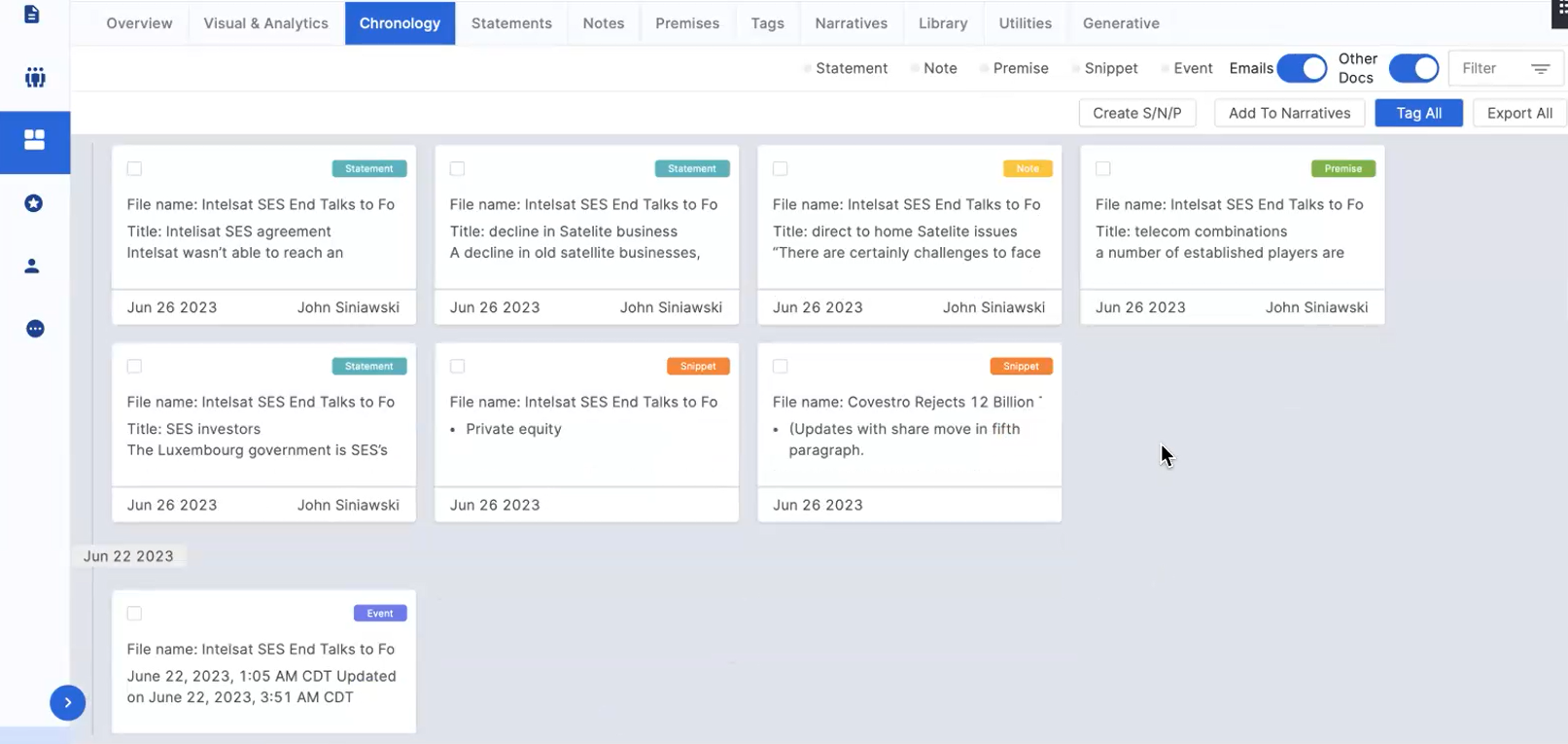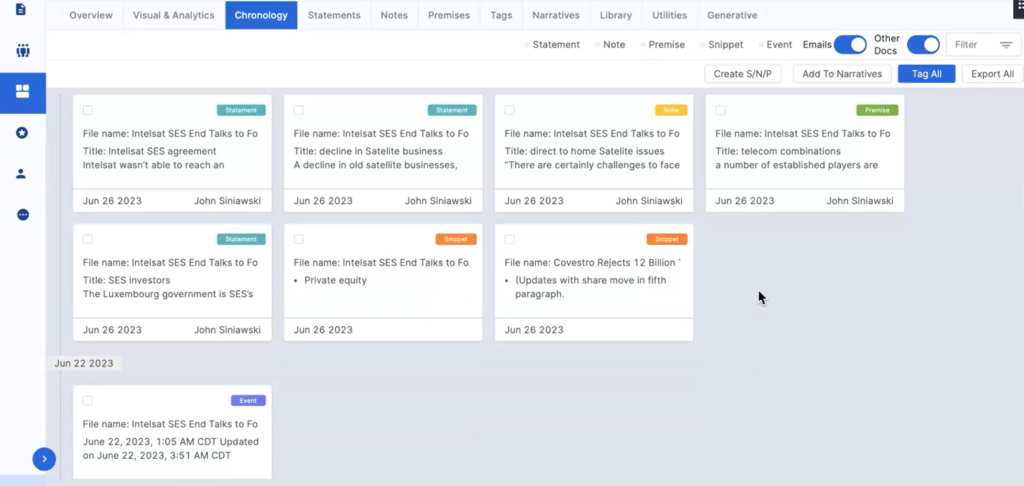 The Chronology tab emerges as a focal point, where the convergence of statements, notes, and premises unfolds seamlessly. This integrated canvas presents a panoramic view of the project's progression, offering a cohesive narrative. Within this framework, the system extracts pivotal events and snippets from email files, providing contextual insights into significant moments.
By elevating user experience, the platform now offers the ability to generate generic statements, notes, and premises. This enhancement streamlines the assimilation of new document sets, optimizing contextual understanding. While not a novel feature, its refined interface simplifies note creation, resulting in an orderly compilation of notes, statements, and premises.
The Chronology tab in our knowledge management software embodies user-centric design, facilitating a structured approach to comprehending intricate case dynamics. This optimization embodies the fusion of functional efficacy and user-centered design, reinforcing the platform's commitment to empowering case study endeavors.
Let's look at the USP below
The system demonstrates its astuteness by discerning multiple instances of the same email event. Notably, it can identify events based on context without relying solely on dates or years. For instance, if an email mentions meeting "one week from now" or "one month later," the system adeptly associates these events with their respective dates. This perceptive approach ensures accurate event filtering, as seen in phrases such as "travel any Thursday, Friday, and Sunday." The system's ability to decipher events within emails showcases its advanced understanding of contextual nuances.
Mechanism
The High Peak team undertook the task of implementing sentiment analysis by utilizing the Amazon reviews model, a classification system designed to determine the positivity or negativity of Amazon reviews. This model served as our foundational dataset. Subsequently, extensive annotations were conducted in-house to meticulously analyze each sentence within the context of the documents.
Initial implementation involved numerous iterations with legal professionals, as differing perspectives and domain knowledge influenced sentiment judgments. Acknowledging the subjectivity, we developed a feature allowing users to manually highlight sentences and annotate their sentiments, addressing individual nuances. This iterative approach reflects our commitment to refining sentiment analysis accuracy within the diverse legal landscape.
User Services
Our user-centric approach is further exemplified through the User Services feature. A notable addition is the General Search function, enabling users to seamlessly explore across all projects. This novel capability enhances efficiency by swiftly retrieving relevant information. Additionally, the Invite section empowers users to effortlessly invite team members and collaborators to join the platform.
Recognizing the importance of feedback, we've incorporated a dedicated Feedback section, fostering open communication and continuous improvement. This comprehensive User Services feature reflects our commitment to optimizing user experiences while fostering collaboration and growth within the application.
Accurate data extraction at scale using intelligent OCR techniques improving processing time
In most situations, documents are available in PDFs, native, or image form. Typically, data noise and quality elements pose a challenge to information extraction and data transformation from such documents. These include pen scribbles, watermarks, wrinkled, torn, discolored, smudged stamps imprinted on the text. Randomly occurring black and white grains, dark backgrounds, faded ink, printed with low-contrast or colored ink, and poor dpi of the scan. Furthermore, deriving inference from multiple related sentences in a clause or section is another challenge when processing matter-related documents.
We built an automated data extraction capability using Optical Character Recognition (OCR) technology to solve these specific data extraction problems. The knowledge management software involves AI models that are trained using a large amount of training data for handwritten text images and annotated actual text values.
Using the OCR engine, printed or written text from an uploaded document or image file is converted into a machine-readable format. Accordingly, this extracted data is categorized by our deep learning algorithms and later used for data processing like editing or searching. For example, the algorithms can understand the extracted information presented in a DD/MM/YYYY format as a date.
Intelligent auto-summarization of emails creating short, easily digestible snippets of important information using NLP
Before going deep into any case, right from the first document itself, sometimes users want to take an overview or get to know a specific case attribute. To solve this use case, our team at High Peak came up with an auto summarization of email functionality.
Using Machine Learning and Natural Language Processing algorithms, our designed system analyzes the text in the documents and displays the summarized text in the form of snippets. A user can use the auto summarization feature to view a summarized version of all the emails in a thread—saving them a lot of time and effort. Additionally, information such as email threads and the number of emails can be viewed by the users working on the case.
Robust knowledge management system to store and protect all relevant and sensitive data under one roof
A well-functioning organization usually requires a well-functioning knowledge management system (KMS). With hundreds of documents associated with a single matter, our system provides effective content management, enabling users to organize all matter-related information and index it as clearly as they want.
The KMS comprises six main categories:
Statement: Any insights or conclusions derived from the matter-related documents can be stored as fact.
Notes: Our note-taking feature has evolved to offer both case-specific and adaptable note creation. Initially designed for case-relevant notes, we introduced "generic notes" for broader utility. Users can now create notes tailored to specific clients or private insights, fostering flexibility. Furthermore, notes can seamlessly transition between projects, streamlining organization and access. Users can easily convert generic notes into project-specific ones, ensuring a smooth shift from general to targeted relevance. With functionalities encompassing archiving, creation, and editing, this feature reflects our dedication to empowering efficient note-taking practices within the platform.
Premises: High-level and incident-level issues pertinent to the matter can be logged in this section of the KMS.
Library: Users can organize and store all the matter-related documents with the source feature. For instance, the number of processed files, unprocessed files, email threads, and so on. This feature enables users to have quick and immediate access to all necessary files in one place.
Tags
Our knowledge management software introduces a robust tagging mechanism. Users can now efficiently link related documents, creating meaningful associations. For instance, when dealing with documents concerning a specific individual, users can conveniently tag relevant files with the individual's name. This streamlined approach allows for quick retrieval of essential information, simplifying the referencing process during depositions or other critical contexts.
Also read:- HighPeak's Innovative RFID Tracking System

Users experience heightened control and organization in the narrative section, seamlessly integrating emails, facts, notes, and issues into a cohesive account. Vital for depositions, this feature enables exporting curated narratives, preserving the sequence for logical presentation. Users customize the arrangement, efficiently exporting a compiled document encompassing statements, notes, and premises. The former Fact, Notes, and Issues (FNIs) term adapts to evolving projects. In the legal world, our enhanced narrative empowers professionals, facilitating impactful, structured document presentations for crucial proceedings.
The Utility tab offers enhanced convenience by consolidating vital features previously scattered across sections. Previously, functions like consolidated view, export, and reporting were located separately. To streamline accessibility, we grouped them under the Utility tab, providing a dedicated space for these essential tools. Notably, users can capture screenshots from the Timeline and Topic Clustering, which will be housed here alongside the Report section.
This tab enables users to swiftly comprehend the chronological sequence of events within the timeline, including document uploads and case creation details. Additionally, users can generate comprehensive analytical reports encompassing created facts, notes, statements, and topic clustering insights. This dynamic feature integration, including the case-specific search capability, underscores our commitment to enhancing user efficiency and clarity.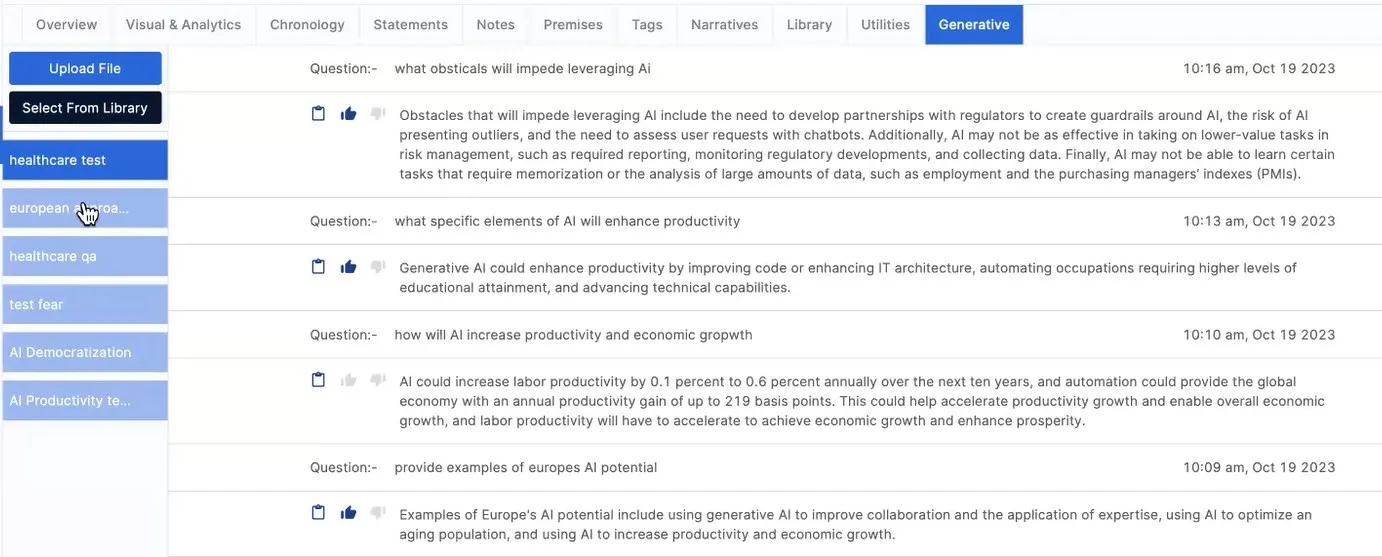 Scirevance's generative AI feature accelerates project management. It executes swift responses, processes massive data, uncovers trends, and curates insights. Enhanced decision-making and operational efficiency are its promise. It's not just an AI tool; it's your intelligent go-to expert for project-related solutions at lightning speed.
Screenshot: While going through the processed documents, email threads, and data visualizations, users may take screenshots for future reference. These screenshots are stored and are available as and when required.
Intelligent search mechanism emulating natural language search with Boolean search as an add-on
Our knowledge management software includes an intelligent search mechanism with local and global search features. Built on Elasticsearch, it allows users to search and analyze hundreds of documents quickly and in near real-time. The users are provided with numerous search fields, including exact, proximity, domain, facts, notes, issues, tags, file extensions, entities, file metadata, and others.
The knowledge process software also lets users leverage Boolean operators(AND, OR, & NOT) to construct the boolean search. Moreover, the advanced search mechanism also comes with the capability of highlighting the synonyms of input search terms and terms related to input search terms.
In addition, the user can also search for specific elements on a given tab/page using the local search feature.
Technologies used
Front End: React, Javascript, Axios, D3, Recharts
Backend: Java, Mysql, Elasticsearch, Amazon s3, Aws Lambda
API Testing: Postman
NLP: StanfordCoreNLP, OpenCV, Tensorflow, Bert-TensorflowTika, Tesseract, Textract, CRFSuite
Upcoming Features
SME section
Anticipating future enhancements, our application is poised to introduce an innovative feature. We are exploring the inclusion of Subject Matter Experts (SMEs), esteemed professionals renowned for their expertise.
This strategic addition will enable comprehensive project reviews, leveraging expert insights to elevate project outcomes.
SMEs' guidance will prove invaluable, enriching our platform with specialized knowledge and enhancing decision-making. Moreover, the application is undergoing advancements in scrape runs, further streamlining data collection and analysis.
Subscribe to our monthly newsletter