Robust Healthcare Referral Management System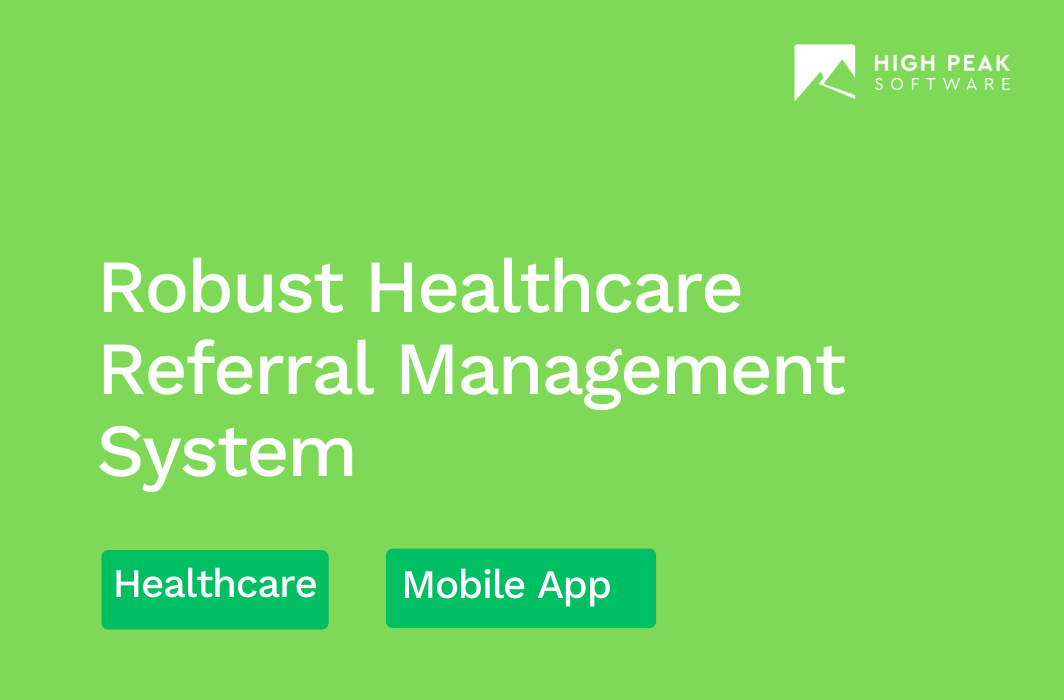 Table of Contents
About our client
Our client is a HIPPA-complaint SaaS-based platform tailored for the healthcare industry. They provides mobile and web-based solutions for all stakeholders in the medical community. Their headquarter is in Atlanta, United States and are leveraging the latest software technologies. It is to bridge the workflow gap in a patient's journey to timely care by simplifying healthcare delivery and communication. Thus, High peak developed a healthcare referral platform to bridge this gap.
About Product Referral System
It is a robust healthcare referral platform that enables continuous referral management, real-time communication, and increased interoperability. It is between the many disparate elements across healthcare systems and practices.
The key highlights of the healthcare referral platform are:
The healthcare referral platform improves the referral process, ensuring patients are directed to the right healthcare professional promptly. Hence, reducing delays in care and lowering costs.
Our newsfeed feature enhances care team connectivity by delivering targeted, informative content, fostering better alignment. It is intended with the organization's goals across different service lines.
A HIPAA-compliant communication module that securely allows patient-centered discussions among care team members—enabling transparency for optimal care delivery.
Impact of the Referral Management System
Our client collaborated with us to build a robust referral management system that connects care team members with patients and each other by:
Improving communication,
Simplifying the doctor—patient referral pathway, and
Engaging and educating patients.
There has been a significant increase growth % in:
No of users
Organizations
Referral created
What did our client want to solve in order to simplify healthcare delivery and communication?
The high costs and inefficient processes of the US healthcare industry undergo significant scrutiny. Thus, leading to patient dissatisfaction. Even in this day and age, the healthcare industry around the globe remains fragmented, disconnected, and typically operates within silos.
This leads to poor healthcare provision, lack of quality patient care, and even potential revenue loss for healthcare providers.
It is common for general physicians to refer their patients to specialist doctors or hospitals within a healthcare ecosystem. These referrals usually occur at a critical moment in a patient's journey. Also, it holds significant implications for physicians, patients, and healthcare providers.
Referrals for physicians represent a unique inflection point. Clinical goals, patient healthcare journey, and the resources available within the physician's organization drive the next step in care.
Whereas for patients, a referral is a challenging step in the treatment process. It is because it reflects a change in diagnosis or an escalation in care. Therefore, our client wanted to:
Construct referral pathways as stress-free as possible for physicians and patients
However, referring physicians do not successfully send many referrals to providers who meet the patients' needs within the required time frame. Often, these specialized healthcare providers or physicians may not work in the same clinic or location as the referring doctor. Thus, leading to misinterpretation. Furthermore, providers who run the show often handle these referrals manually, resulting in doctor-patient appointment scheduling errors and patient referral leakage. Also, includes untimely patient progress updates, inefficient patient referral tracking, and low referral utilization rates.
To solve such issues, our client wanted to develop a healthcare referral platform. It would enable healthcare organizations and physicians by simplifying referral pathways. Also, by improving communication within the medical community, and thus enhancing access to quality patient care. By developing an end-to-end referral management platform by partnering with High Peak, our client wanted to:
Simplify, streamline, and integrate an end-to-end patient referral management system into existing clinical workflows.
Improve and encourage communication between patients, medical professionals, and healthcare providers.
Continuously engage patients throughout the referral process.
Enable care team members to identify the correct physician or provider in a multi-speciality collaboration. Hence, improving treatment times and patient outcomes.
Analyze referral metrics to improve outcomes and operational efficiencies through a robust communication system that can send alerts, broadcast messages, and follow-up reminders to members in a healthcare facility.
Revamp referral flow by assisting potential cross-collaboration across healthcare systems and practices through easy electronic health record (EHR) interoperability.
Facilitate dissemination of educational information to familiarize care team members with the latest medical devices and vendors.
Challenges-High Peak tackled healthcare referral platform design and development challenges successfully.
Redesigning and redeveloping the older version of the application
Before getting into a strategic partnership with High Peak, our client had an application previously developed by a former vendor. The initial version of the referral management system had some major drawbacks regarding user adaptability and the system's scalability due to complex and convoluted backend workflows.
A major challenge for our team at High Peak was to improve existing features in the previously built version as well as to design and develop new features keeping the application's scale in mind.
Mitigating traditional hand-offs by solving for an advanced referral tracking system
While handling new patients, the traditional referral systems involve handing slips to patients and asking them to schedule an appointment themselves. Since scheduling a doctor's appointment involves making multiple phone calls, a long lead time, and considerable time and effort on the patients' end, most patients get frustrated and often neglect the process. Moreover, the poor hand-off also leads to missed or delayed referrals, resulting in patients not receiving the necessary care.
Our team needed to develop a highly intuitive solution for healthcare providers and community members that monitors and reports each step of referral flow. This flow consists of referral creation, scheduling, educating, following up, and so on. The healthcare management teams should be able to analyze real-time, actionable data about their patient traffic and network offices after a referral is made throughout said flow.
Solving for an intuitive, scalable and robust solution for a diversified audience with a prime focus on data security
With the growing complexity of the healthcare system, there are so many different types of hospitals and medical facilities available for patients, such as large and small hospitals, health clinics, individually practicing physicians, nursing homes, and diagnostic laboratories, among others.
While solving the bottlenecks in the enhanced referral management system, our client wanted to ensure that the digital solution they were building should be sophisticated yet easy to use while catering to all types of users.
At the same time, the solution should be built for scale and has to be robust enough, as vast volumes of highly sensitive patient medical and financial data would be uploaded, processed, and shared among multiple care members for medical diagnosis and appointment scheduling.
Lack of an up-to-date and accurate healthcare provider active directory
Keeping healthcare providers' data up-to-date—therefore, useful—is a challenge that almost every healthcare system faces. It's not as simple as the accuracy of the name and location of a provider.
However, that is a challenge that many organizations face as they struggle to manage multiple sources of conflicting information. Accurate data is critical for effective referral management. If the underlying data is not correct, referrals can be sent to the wrong providers at the wrong locations. In addition, slight differences in a physician's name or office location can cause duplications in the provider active directory.
Our team at High Peak needed to leverage a centralized healthcare database (such as the clinicaltrials.gov database for clinical trial support among others) in order to present accurate information to care staff members in a user-friendly format.
Building a Health Insurance Portability and Accountability Act (HIPAA) complaint referral management system
Working on HIPAA-compliant referral management systems requires attention to detail, government regulations, laws and guidelines, privacy, and ethics. Furthermore, the system we were building handles highly sensitive medical and financial data.
Our team at High Peak had to educate themselves about the medical laws and regulations in the United States to understand how they can build different modules and multiple end-user workflows, within the platform, without compromising the system's data integrity.
Understanding medical concepts and attributes
During the creation of the application, a significant challenge was understanding and incorporating diverse medical concepts and attributes. Here's an overview:
Complex terminology: Medical terminology is intricate, requiring a deep understanding to represent conditions, treatments, and procedures accurately.
Diverse specialties: The app aimed to cover various medical specialties, necessitating thorough research and collaboration with experts in each field.
Evolving knowledge: Keeping up with the latest medical advancements was vital for providing up-to-date and reliable information.
Handling ambiguity: Addressing nuances and ensuring precision while simplifying complex concepts posed a challenge.
Strategies employed:
Collaboration with experts: Medical professionals provided valuable guidance and insights into different specialties.
Extensive research: Thorough research and validation ensured accuracy and reliability.
User feedback: Feedback from medical professionals and users helped refine the application's understanding.
Iterative improvement: Continuous refinement of the system based on user feedback and evolving medical knowledge.
Developing the mobile app in Flutter for mobile app
One of the significant challenges encountered during the development of the application was the process of building the mobile app using the Flutter framework.
Here's an overview of the challenge faced:
Learning curve: Flutter is a relatively new cross-platform framework, and the development team had to familiarize themselves with its concepts, syntax, and best practices. Overcoming the learning curve and acquiring proficiency in Flutter posed an initial challenge.
Platform consistency: The app aimed to provide a consistent user experience across multiple mobile platforms (iOS and Android). Ensuring the app's performance, responsiveness, and visual consistency on both platforms required careful attention to platform-specific nuances and guidelines.
Third-party integration: Integrating various third-party libraries and services within the Flutter ecosystem posed its own set of challenges. Ensuring compatibility, managing dependencies, and troubleshooting any conflicts or issues required extra effort and attention to detail.
UI/UX design and performance: Creating an intuitive and visually appealing user interface (UI) within the constraints of Flutter's widget system and maintaining smooth app performance across different devices presented challenges. Optimizing the app's performance and responsiveness demanded meticulous testing and optimization.
Interconnected features, extensive permissions, and chat testing in the development of healthcare referral platform
From a feature perspective, one of the significant challenges faced in developing the app was the extensive permissions required for each row and the interconnection of features across multiple applications, including practice, admin, health system, and mobile applications. This presented a unique testing challenge, as it was necessary to cover all use cases thoroughly.
Here's an overview of the challenge encountered in healthcare referral platform:
Complex permissions structure: The application system involved intricate permission settings that needed to be meticulously configured for each row. Managing permissions across various features and applications required careful attention to detail to ensure the right level of access and security.
Interconnected features: The features in the app were tightly interconnected, meaning changes or updates in one application could have implications on others. Coordinating and synchronizing these features while maintaining their functionality and data integrity posed a significant challenge.
Testing push notifications during chat integration: A testing challenge arises in the app as push notifications need to be validated during chat integration. Ensuring reliable delivery and synchronization of push notifications while testing chat functionality adds complexity to the testing process.
Comprehensive use case coverage: With multiple interconnected applications and extensive permissions, identifying and covering all use cases during testing was a complex task. Ensuring that each feature and integration worked seamlessly in different scenarios demanded thorough planning and rigorous testing.
To address these challenges, the development team employed several strategies:
Robust testing framework: A comprehensive testing framework was implemented to cover various use cases and ensure the smooth functioning of interconnected features. This included creating test scenarios that encompass different permission settings and interactions between applications.
Iterative testing and feedback: The team conducted iterative testing, seeking feedback from internal stakeholders and end-users to identify and address any issues or gaps in the interconnected feature set. Regular feedback helped refine and improve the system.
Collaboration and communication: Close collaboration between developers, testers, and stakeholders was crucial in understanding the interconnected nature of features and coordinating efforts to ensure comprehensive testing coverage.
Solution
High Peak built a HIPAA-complaint healthcare referral platform that enhances patient care by simplifying and streamlining the patient referral pathway
Catering to the needs of our client and taking a patient-centric approach to optimize healthcare delivery and communication, our team designed and developed two different platforms integrated into one single product. They are:
A robust healthcare referral platform
Improving the patient care continuum through a robust referral management platform
We designed and developed an end-to-end referral management system to enhance patient care as well as to enable users' general processes to optimize outcomes. Since a referral management system in the healthcare ecosystem involves multiple stakeholders, our team devised multiple modules within the platform depending on a user's role and its associated functionalities. Also, we have integrated all the mobile features in the web application as few organizations might not allow the usage of mobile for official purposes. These are:
Super admin web app—designed and developed for the platform's community admin and management teams.
Practice and Health System admin web app—leveraged by the admin team of the onboarded practices on the community platform.
Mobile app—used by care team members such as physicians, and medical staff, among others.
1.1 Super Admin Web App:
Powerful user management system that facilitates an interconnected, well-informed healthcare community
The super admin app is a web-app accessed by the client's admin team. This web-app comprises five sub-modules:
1.1.1 Practice
The admin team uses this module to invite healthcare management teams such as medical practices and health systems to the community. Once a healthcare management team or an organization is invited, users can sign up and onboard their organization onto the platform. Super admin app users can view, modify, or delete an organization's details such as invite status, domain and practice name, user email address, and registration date using the same functionality interface.
1.1.2 Vendor management
Clinical trial vendors are the main users of the medical campaign manager. The super admin app users can invite vendors onto the platform by sending them an invite using the application. The admin can view basic information such as a user's sign up status, company name, first and last name, role, vendor's email address, contact number, and registration date. Similar to the practice module, the admin can also delete any vendor from the platform.
1.1.3 Database management
The users of the super admin app can leverage this module to manage and update data on specialities, sub-specialties and disease categories, along with referral reasons corresponding to a speciality, zebras or unique interest. These data sets are hosted on AWS and can be used by physicians and care team members while referring a patient to another doctor or medical facility.
1.1.4 User management
This sub-module provides a list of all the users within the product's application. An admin has permission to activate, deactivate, search, or even remove a user from the community.
1.1.5 Campaigns
This module contains details of all the marketing campaigns created by vendors. Once a vendor creates a campaign, it is sent to the admin for approval. Admin can view all the necessary details associated with a campaign, such as a title, campaign type, budget, duration, campaign ID, clicks, impressions, running status, etc. Using this module, an admin can perform a quality check and approve/reject a campaign. In order to know more about this specific marketing product, you must read about a case study on healthcare ad campaign management system.
1.2 Practice Admin Web App: 
Simplify and streamline the patient referral pathway with a robust referral management system
Once the management teams or organizations receive an application invite from the super admin app, these organizations can sign up, onboard, and set up their workspace on the platform.
After setting up their workspace, these practice admins would be inviting their care team members to join the community through the mobile app under their specific practice.
1.2.1 Facilities
Practice admin can also access and take necessary actions to incoming, outgoing, and pending referrals related to a particular practice. For pending referrals, the practice admin can assign a physician based on the patient's referral type, referral reason, and disease category. In addition to this, the practice admin can also access the list of physicians/providers related to a specific disease category and referral reasons, along with the multiple facilities associated with a physician.
Here you get to view in details:
1.2.2 User management
The practice admin can moderate the list of all the users that have been invited and onboarded to a specific or multiple facilities on the platform. Admin can then filter the  user database by their onboarding status, first and last name, onboarded by, role, specialties, facility name, and recent activity. Admin also can add or delete any user from the platform using the same functionality interface. 
1.2.3 Documentation
For every specialty and its disease category and referral reason, the practice admin can add information on the platform pertaining to that particular facility. For instance, an onboarded practice or clinic follows a set procedure while carrying out a treatment for a disease, that type of information gets uploaded here. These documents can be accessed by the platform's care team members pertaining to their use cases.
1.2.4 Feed
The practice admin can use this module to create a post and customize its target audience based on available specialties, referral reasons, facilities, language, gender, user categories, etc. Along with the feed's basic functionalities, any post reported as spam gets tagged to a practice admin of that facility for quality check. Also, the practice admin can create and send alerts or push notifications to the users of a facility in case of an emergency.
Some organizations restrict care team members' usage of mobile phones while they are on the premises. In order to make the platform accessible to all the care team members, our team at High Peak is currently working on replicating all the mobile-based features and functionalities onto the web-based application and segregating the workflow based on a user's permission.
1.3 Health System Admin Web App:
Centralized portal that connects and establishes an end-to-end doctor—patient referral workflow
In clinical terminology, a practice is a small organization with few facilities within that organization catering to a select specialty. In contrast, a health system has many facilities catering to multiple specialties. Therefore, except for the organization structure, all the functionalities we covered above under the practice admin app are in the health system admin app. The only add-on in the health system admin app is that similar facilities are grouped and termed as Medical Group. Additionally, the admin can also group multiple similar specialties under one specialty group.
1.4 Mobile App: 
Comprehensive mobile application that encompasses a fully-operative doctor-to-patient referral ecosystem
1.4.1 User onboarding
The platform is an invite-only community. The practice admin invites care team members such as physicians, allied health professionals, and administrators to the mobile app. Once these individuals receive an invite, they must sign up on the app by creating an account and providing their relevant details. These users are then mapped to the practice through which invitation they have joined. Another way to sign up on the platform and be a part of the community is by signing up using a referral code from a vendor or another existing user.
1.4.2 Feed
Once users have logged in to their respective practices on the community platform, they are presented with a dynamic feed that contains all the content posted by its community members—within that practice account. This feed highlights information that includes informational posts created by other community members, alert notifications by admins, marketing content pushed by vendors, etc. Like any other social media feed, a user can create, save, like/comment on a post or even filter the feed based on his/her interest. Moreover, a user can also select the target audience while creating a post for relevant community engagement.
Users now have the ability to filter their targeting options by selecting specialists and healthcare facilities. This advanced functionality aligns with the user-friendly interface seen in popular social media platforms, ensuring a seamless transition for users. With improved targeting capabilities, users can easily customize their preferences and optimize their experience within the system.
Here's what the enhanced targeting feature brings:
Specialized filtering: Select specialists in specific medical fields to fine-tune your feed. Stay updated on cardiology, pediatrics, orthopedics, and more. Receive relevant updates and information tailored to your interests.
Healthcare facility selection: Filter your feed based on preferred hospitals, clinics, or medical centers. Stay informed about news, events, and developments from your chosen healthcare establishments.
Familiar user experience: Inspired by popular social media sites, the feature offers an intuitive and user-friendly design. Effortlessly navigate and personalize your feed with familiar interactions.
1.4.3 Multiple referral flows
Referral management typically impacts the clinical workflow in at least two places within the organization. First, the organization's initiating or "sending" side: usually a general physician or urgent care. Second, the "receiving" side: usually a specialist office. On the mobile app, there are three ways a user can create a referral.
1.4.4 Chat
The chat function on the platform works similar to any instant messaging service application. The platform supports two types of chats:
General chat: Care team members can invite up to 25 members within the community and start interacting with them. The platform also enables users to share images, documents, and voice-based, video-based inputs on these groups.
Referral chat: The platform automatically creates a chat between two physicians once they create a referral to streamline all the patient-related communications in one place. A physician can also include supporting staff in this chat group. Physicians can access all the documents and critical patient-related information, such as diagnosis, medications, treatment progress, etc., in one place via these chat groups.
Sample Image from mobile app
1.4.5 Persistent referral notification is the new feature in the mobile application
Introducing an exciting new feature that ensures users receive all their referrals. This enhancement will deliver persistent notifications for each referral until the user provides a response, even if they clear their phone's notifications.
The team recognizes the importance of addressing referrals promptly, and this feature enables users to stay informed about their referral activity, eliminating the risk of accidentally dismissing a notification. the information associated with their referred products according to their specific needs and preferences.
Technologies used
Mobile- Flutter
Front end- React Js
Back end- Node.js and Java
What's in store for the future
As we continue to develop and improve the platform, here are some of the new features our team is currently working on:
Reports and analytics
EHR integration
Subscription plans
Want to see High Peak's team in action? Let's talk!
Subscribe to our monthly newsletter