High Peak enables Scirevance with Cutting-Edge Legal Tech Knowledge Management Platform
Sidharth Wadhwa
Senior Marketing Lead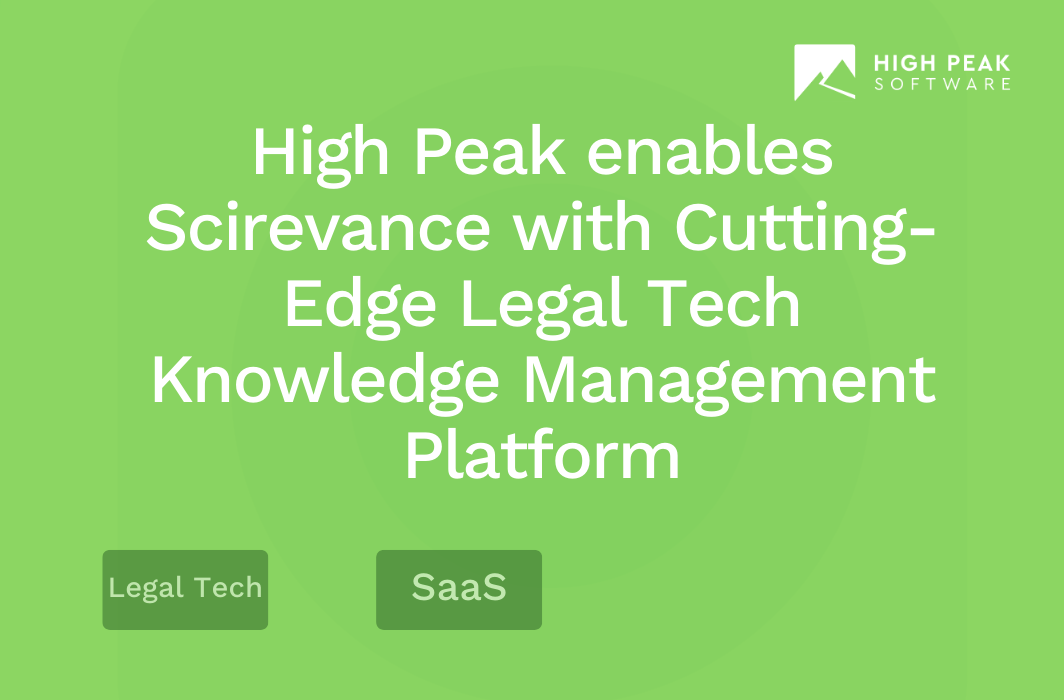 About Scirevance
Scirevance, a technology firm in the U.S, delivers legal, risk and compliance solutions to law firms and legal service providers. Scirevance, a knowledge management platform combines narrative intelligence, learning, and natural language to transform the workflow. It includes information interpretation, streamlining document management, and constructing winning storylines for lawyers.
The knowledge management platform designed and developed by High Peak helps legal entities build powerful and winning case narratives by 
Legal teams face a daily challenge to manage, analyze, interpret, and utilize large data sets. Lawyers around the globe are leveraging this software, voted as a top innovative legal technology startup in the competition at ABA TECHSHOW 2021 Startup Alley, for its following capabilities:
Simplifying narrative building through powerful data visualization
Constructing a winning narrative arc relies on the trial lawyer's ability to present facts and evidence. It should be in a way that alters each piece of evidence's individual significance. This is by merging it into a coherent story that resonates. This arc establishes a matter's thematic thread that can be carried all the way to the closing argument.
Scirevance enables lawyers to go above fact-finding and build a compelling narrative. This knowledge management platform does more than sequence facts or tell events in a particular order. Platform's advanced note-taking and event identification features capture an individual lawyer's unique process. Also, presents it in the form of interactive chronologies and visualizations. Thus, enabling lawyers and legal teams to structure the basis for their multifaceted arguments.
Accelerating matter investigation with knowledge management platform
Manually searching through a large amount of documentation drastically slows down the momentum of case investigation. It is also highly error-prone. Scirevance's knowledge management platform speeds up the case analysis process by transforming data into interactive visualizations. It empower teams to identify hidden data patterns, discover new questions, and deliver actionable insights. Additionally, the knowledge management platform consolidates all types of documents and acts as a library. It is to retain them in a single place for easy retrieval and collaboration.
Intelligent mapping relationships between matter and documents
Because lawyers and legal teams deal with a lot of paperwork, the manual classification of documents is often resource-intensive and error-prone. Using AI and natural language models, this knowledge management platform helps lawyers find the correlation between multiple case attributes. It is done by providing simple yet powerful data visualizations and intuitive search capabilities. Thus, help them reduce the time taken to prepare for all litigation phases, increase efficiency, and free up staff.
"One of the great things that the High Peak team has done with 44th Street technologies (Now Scirevance) system implementation is that the system is structured in such a way that it adapts to the way you work. It's intuitive, easy-to-use, and takes a broad view of what our end-users do with all the data, turning it into useful information. Our clients now create a better narrative backed with data visuals and facts."

John Siniawski, CEO at Scirevance
Why did Scirevance first approach High Peak to build a powerful knowledge and intelligence augmentation system? 
Dissatisfied with the state of knowledge management processes prevailing in the market and the cost associated with it. Especially for businesses that are documentation heavy in nature. Scirevance's goal was to build a comprehensive platform. It is for better document collection, processing, review, analysis, and visualization from the ground up for the legal industry. 
To solve this issue, Scirevance knowledge management platform connected with High Peak Software to develop an analysis platform that empowers legal entities. Also, helps lawyers to create powerful narratives and enhance the storytelling experiences with supporting data.
Every litigation matter has thousands of documents such as emails, transcripts, briefs, contracts, and NDAs. Lawyers and legal professionals have to deal with large volumes of paperwork and documentation. Vetting and culling these documents takes multiple reviews which are often time-consuming and costly. These activities include conducting extensive research, creating a chronology and timeline, fact-checking, documentation and review, and much more. A documentation backlog is created if the process to complete these tasks is not automated, smooth, and quick in returning actionable insights.
Create a Self-Learning Knowledge Management Platform to Help Legal Teams
In order to enable lawyers from small and medium law firms with a technology advantage, Scirevance wanted to create a self-learning knowledge management platform to help legal teams:
Speed up the case investigation and analysis processes by transforming data into intuitive visualizations. It should empower lawyers to identify hidden patterns, discover new questions, and deliver actionable insights from day one.
Quickly understand the cases, capture their thoughts and notes while enhancing their focus to develop a compelling narrative for clients.
Manage a single source for all their matter-related documentation. Every relevant document, including self-notes, client/opposition documents, facts from related matters, and expert opinions, is retrievable. They can be accessed from a single location on the lawyer's preferred device.
Access and highlight case-relevant information by obtaining accurate reports with custom-tailored interactive visualizations.
Easily handle more cases with less overhead by streamlining the document review and analysis process.
Retain institutional knowledge regardless of turnover or unforeseen disruptions. The platform acts as a library to retain all types of documentation in a single place for easy retrieval and collaboration.
"During my time as a paralegal at a large law firm, we primarily used in-house software to manage, review, and prioritize documents for discovery productions; although I have experience with other e-discovery softwares available in the market. The in-house software did little more than open the document for review. We were expected to analyze and prioritize the documents based on issues and relevant facts with separate word documents and charts. Such software, and most software, require constant re-review of the same documents depending on the issue. 44th Street's(Now Scirevance) features such as facts, issues, and notes solve this problem perfectly and will likely save hundreds of hours in re-reviewing documents."

Joey Zawacki, Paralegal
High Peak encountered and solved for several technical and business challenges during product design and development
Manual documentation process and information overload
A typical case would mean collecting thousands of documents consisting of scanned PDF files, native documents and emails, images, chat logs, and other related documentation. Relying on manual classification or overtly technical systems for such tasks is complex, resource-intensive, error-prone, and highly inefficient.
Solving for an intuitive, scalable and robust solution with a prime focus on data security
Lawyers and law firms are constantly entrusted with highly sensitive information about their clients. As a course of their business, the need for effective data security is of critical importance. Scirevance knowledge management platform aimed to create a sophisticated digital solution while addressing bottlenecks in the document analysis process. Also, it will be easy to use while securely handling highly sensitive matter-related documents. At the same time, the knowledge management platform should be built for scale and has to be robust enough. It because vast volumes of data would be uploaded, processed, and extracted for analysis by the users. 
Designing a narrative building automated e-discovery platform
The concept of storytelling, or narrative, is integral to any trial lawyer's preparation. Building a narrative relies on the trial lawyer's ability to present facts, issues, and evidence. It has to be in a way that alters each piece of evidence's individual significance. Of course it needs to be done by merging it into a coherent story that resonates. Our team needed to develop an end-to-end knowledge management platform for lawyers and legal teams that goes beyond a mere e-discovery application. It is to assist them with their trial preparation by constructing a compelling storyline. 
Complicated user interface
Within legal technology, we noticed that the tech development focus is entirely on the solution's features. It is seen that user experience is not considered necessary compared to a checklist of capabilities. Moreover, based on our primary market research, we recognized a clear need for an intuitive e-discovery platform in the market. E-discovery platforms with non-intuitive user interfaces can make it challenging for non-technical users to adopt. This is why it's important to have a user-friendly interface. Also, to use its powerful features to its full potential.
A major challenge for our team at High Peak was to make sure that the application's UX and interface design was intuitive and easy to use. Ultimately, making the knowledge management platform straightforward for lawyers to navigate and utilize the application swiftly.
Disconnected and unorganized offline workflows
Collaboration among the entire legal team can be difficult with offline workflows due to the multiple sources of matter-related information. Therefore, online workflows are often preferred. Information is unorganized and often present in silos, making the discovery process highly counterproductive. Therefore, it was critical for our team to make an integrated knowledge management platform that can act as a single source of truth. Also, that can help end-users seamlessly adopt new digital workflows. 
"What I like most about 44th Street(Now Scirevance) is that it makes sense out of all the discovery data on day one."

Carman Caruso, Carmen D. Caruso Law
The Matter Intelligence Augmentation System comprises several intuitive and insightful functionalities to aid users in building winning narratives:
Interactive matter management system that enables easy collaboration between the legal team and its clients
We designed and developed a smart and interactive matter management system to improve knowledge-driven work as well as to improve users' general processes to optimize outcomes. As any matter involves multiple stakeholders, it operates on role-based access, and caters to four types of users corresponding to their functionality:
Global admin
Firm admin
Case owner
Team member
Once logged in, users can create matters with attributes such as matter titles, dates, facts, notes, etc., and also invite collaborating users to participate in, contribute to, and access details and documents of a particular matter as per their requirement. Moreover, the applications record all the activities that a team member on the case has carried out. This makes collaboration between dynamic teams much easier.
Automated document classification powered by self-learning algorithms saving thousands of manual hours
Document classification tasks can be a massive bottleneck as they receive a large number of multiple document types to process. Before actually extracting data from these documents and organizing it afterwards, they need to classify these documents into respective categories.
Once a matter is created, our knowledge management platform allows users to upload all kinds of documents such as text, PDF, images, chat logs, etc., in bulk. Our system is powered by intelligent techniques such as Machine Learning and Deep Learning to effectively manage these documents with large amounts of unstructured information. These Machine Learning and Deep Learning models get better with time and help us make the document classification process much faster, more scalable, accurate, and cost-effective when compared with manual classification. 
As users start uploading documents, it automatically detects various types of documents and categorizes them based on their formats. For instance, the user can upload contract documents, invoices, images to the knowledge management platform, and the platform is capable of identifying it as such automatically. Users can then access the files based on their format, folder structure, and type.
Accurate data extraction at scale using intelligent OCR techniques improving processing time
In most situations, documents are available in PDFs, native or image form. Typically, data noise and quality elements pose a challenge to information extraction and data transformation from such documents. These include pen scribbles; watermarks; wrinkled, torn, discolored, smudged, stamps imprinted on the text, randomly occurring black and white grains, dark backgrounds, faded ink, printed with low-contrast or colored ink, and poor dpi of the scan. Furthermore, deriving inference from multiple related sentences in a clause or section is another challenge when processing matter-related documents.
We built an automated data extraction capability in our knowledge management platform using Optical Character Recognition (OCR) technology to solve these specific data extraction problems. It involves AI models that are trained using a large amount of training data for handwritten text images and annotated actual text values. 
Using the OCR engine, printed or written text from an uploaded document or image file is converted into a machine-readable format. Accordingly, this extracted data is categorized by our deep learning algorithms and later used for data processing like editing or searching. For example, the algorithms can understand the extracted information presented in a DD/MM/YYYY format as a date.
Intelligent auto-summarization of emails creating short, easily digestible snippets of important information using NLP
Before going deep into any case, right from the first document itself, sometimes users want to take an overview or get to know a specific case attribute. To solve this use case, our team at High Peak came up with auto summarization of emails functionality.
Using Machine Learning and Natural Language Processing algorithms, our designed knowledge management platform analyzes the text in the documents and displays the summarized text in the form of snippets. A user can use the auto summarization feature to view a summarized version of all the emails in a thread—saving them a lot of time and effort. Additionally, information such as email threads and the number of emails can be viewed by the users working on the case.
Semantic topic clustering to simplify natural search and understanding of case narration
Once the uploaded documents are classified and the data has been extracted, our knowledge management platform starts processing this data. It identifies areas where information is contextually or semantically similar and groups them into clusters. Even though a matter may have hundreds of documents talking about many different topics, clustering directs users to a high-level grouping of relevant data. From the first moment itself, users can see what subjects are covered, as well as in-depth subtopics within those general subject areas as dominant keywords and metadata are put front and center.
Powerful sentiment analysis using NLP to help understand and dissect the underlying emotions and tonality of proof matter
Keeping in mind our client's nature of work, our knowledge management platform can also identify the emotional tone about a legal matter within the context of a legal milieu. It can identify and quantify text data, emotional states and subjective information of the topics, persons and entities within it. Thus, helping users understand the context behind a conversation at a glance.
Built using pre-trained natural language processing models, sentiment analysis gauges the sentiment of text as positive, neutral, or negative in the email bodies. These language models learn to predict the sentiment of the text based on the context of the sentence. Each sentence within the email body is tagged as positive or negative. Moreover, our system lets users annotate these tags based on their expertise if required.
Robust knowledge management system to store and protect all relevant and sensitive data under one roof
A well-functioning organization usually requires a well-functioning knowledge management system (KMS). With hundreds of documents associated with a single matter, our system provides effective content management, enabling users to organize all matter-related information and index it as clearly as they want.
The knowledge management platform comprises six main categories:
Facts: Any insights or conclusions derived from the matter-related documents can be stored as a fact.
Notes: The notes feature allows users to maintain reference notes, matter highlights, and any information that is significant to the matter.
Issues: High-level and incident-level issues pertinent to the matter can be logged in this section of the KMS.
Source: Users can organize and store all the matter-related documents with the source feature. For instance, the number of processed files, unprocessed files, email threads, and so on. This feature enables users to have quick and immediate access to all necessary files in one place.
Screenshot: While going through the processed documents, email threads, data visualizations, users may take screenshots for future reference. These screenshots get stored and are available as and when required.
Address Consolidation: While mining the text from the documents using the OCR engine, sometimes some characters get misconstrued. To fill the gap of technology limitation, the system lets users correct any mistake while extracting email addresses from the documents. Users can merge/unmerge any duplicate email addresses based on their requirements.
Dynamic visual narratives for actionable insights through timelines, heat maps, relationship analysis, etc.
Our intelligence augmentation system processes and stores client documents, emails, and matter-related files in various visual formats such as timelines, heat maps, and circos charts. These visualizations enable users to explore, manipulate, and interact with matter-related information employing dynamic charts, changing colors, and shapes based on queries or interactions. Importantly, interactive visualizations also offer better access to real-time data, making them valuable in dashboards for teams of different sizes. The ability to view data as it comes in and shifts is vital for users in making the best and most accurate decisions.
Following are the type of data visualization our system offers:
Timelines: As the documents are uploaded, the knowledge management platform notes their time and date and then rearranges all the documents under a matter in a timeline. Users can zero in on critical moments by visualizing all communication patterns at once and identifying trends and important dates with clear graphics that lay the framework for developing an argument.
Heat maps of words: Our knowledge management platform enables users with heatmaps to view events (emails and documents) pertinent to any given date concerning a particular case in a timeline format. 
Email mapping: Using circos charts, our designed system enables users to access email exchanges between the two parties. This interactive chart also allows them to filter email exchanges by subject, timeline, sender, recipient, and so on.
Email thread analysis: Our knowledge management platform processes all the emails that are being uploaded and builds a correlation between all the entities that are involved, such as email, name, domain, date, etc. It helps users filter out documents based on their needs and reduces the time and complexity of reviewing emails by gathering all forwards, replies, and reply-all messages together. 
Chronology: While "timelines" showcase a user with all the documents in their raw form based on the dates they were uploaded against an actual timeline, chronology helps users with processed documents in the form of events and snippets. Users can also export this information based on their requirements.
Narrative: To powerfully tell a story, users need to present documents or sets of linked documents in their own preferred sequences. Since chronology and timelines sort documents based on their dates, narrative enables users to rearrange documents such as facts, snippets, events, and notes based on their specific storytelling requirements.
Intelligent search mechanism emulating natural language search with Boolean search as an add-on
Our knowledge management platform includes an intelligent search mechanism with local and global search features. Built on Elasticsearch, it allows users to search and analyze hundreds of documents quickly and in near real-time. The users are provided with numerous search fields, including exact, proximity, domain, facts, notes, issues, tags, file extension, entities, file metadata, and others. The knowledge management platform also lets users leverage Boolean operators(AND, OR & NOT) to construct the boolean search. Moreover, the advanced search mechanism also comes with the capabilities of highlighting the synonyms of input search terms and terms related to input search terms.
In addition, the user can also search for specific elements on a given tab/page using the local search feature.
"The highlight of the solution would definitely be its ability to analyze relationships & ties within matter-related documents and provide users with its interactive visualizations. Consequently, giving end-users the flexibility to transform their notes into a story while doing any research or analysis."

John Siniawski
Want to know how High Peak can take your product to market in record time?
---
Subscribe to our monthly newsletter